To me, part of the fun of traveling is figuring some things out as you go. But there are other things it's best to learn ahead of time.
A lot has changed about traveling since the pandemic. "Over-tourism" is a phrase you hear a lot in Europe. Everyone wants to get their bucket list items ticked off before it's too late. And as I mentioned last week, we saw that (and were part of that) for ourselves. The way we did things isn't the only way, of course. But these ways worked for us. People will tell you you've "gotta" do this or see that. No, you don't. They mean well but it's your trip to do the way you want to.
We strongly considered going on an organized tour. But we decided to do our own thing, partly because Derek's cousin would be joining us midway. As an international travel agent, I'm not perfect! I left us without accommodations for one night in Rome – oops! With almost everything sold out it gave me a scare, but I found another place pretty quickly.
We stayed at hotels, AirBnBs, a bed and breakfast (with a private bathroom – a must!), and a little inn. We met a couple from Georgia who only booked into Holiday Inns. I understand that. They want a certain level of comfort and no surprises. It's just not how I roll.
Before touring a conservative country like Italy, you should be aware of some facts about the culture. These are not complaints. It's their country and as they say, when in Rome…
Nuns Mean Business
To enter a basilica or any other religious site, shoulders and knees must be covered. No exceptions. Nuns will kick you out. There's often a shawl stand in a tourist area where women can purchase a last-minute (and rather ugly) shawl. It inspired my idea for cool rock and roll shawls called Tommy Shawls. I haven't approached the Styx rocker for his permission yet but stay tuned!
Expect to get hit by people's backpacks. I'm sure this is true for any popular destination. Backpacks the size of microwave boxes are curving the spines of travelers of all ages.
Italian restaurants don't greet you by pouring water like they do here. You must ask for still or sparkling water and pay by the bottle.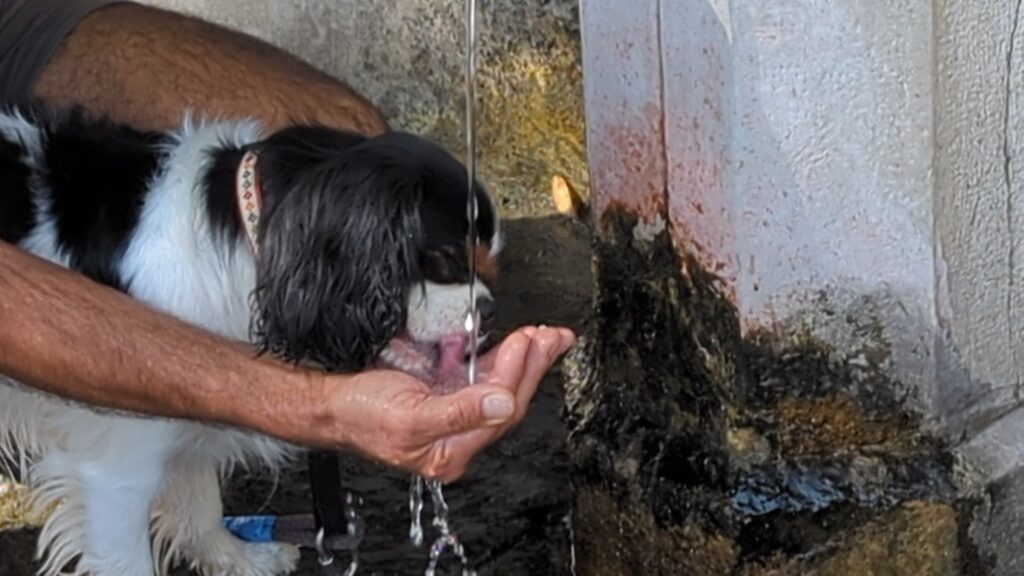 The big cities have fountains you can find on Google maps and fill your own water bottle. Sometimes that fountain is a bare pipe sticking out of a wall, but the water is good (albeit hard water) and it's free.
Italians love dogs. We saw so many adorable dogs, we could hardly stand it! I wanted to crouch every five seconds and ask, "Who's a good boy?"
Locals don't smile at strangers. We Canadians are so accustomed to automatically grinning like ninnies that it's a little bit weird when a smile is not returned. But it's nothing personal. We are also used to emitting a "sorry" and allowing people ahead of us in a line-up. This doesn't happen with the locals. In fact, they'll push ahead of you without making eye contact if they can. Don't mistake it for rudeness. It's just normal in a country where there isn't as much space.
You Might Miss Dinner
Only tourists eat dinner before 8 pm. Peak Italian dinnertime is around 9. If you miss lunch and get hungry during the afternoon siesta, you could be out of luck. By and large, stores and restaurants shut down anywhere from 1:30-3:00 and reopen between 6-8 pm. We got caught on a Sunday in Salerno when even the grocery stores were closed for the day. We had no choice but to take our grumbling tummies to McDonald's – don't judge us!
Backpacks are the scourge of the luggage world. My hatred for them runs deep and wide. If I could make them illegal, I surely would.
At some point, you will smell like cigarettes or a cigar. Smoking is restricted on transit and in hotel rooms but it's fair game just about everywhere else. Someone next to will you light up while you're enjoying your meal, on train platforms, wherever people gather. Do not give a smoker the stink-eye even if, like me, you're allergic. Always remember that you're a guest.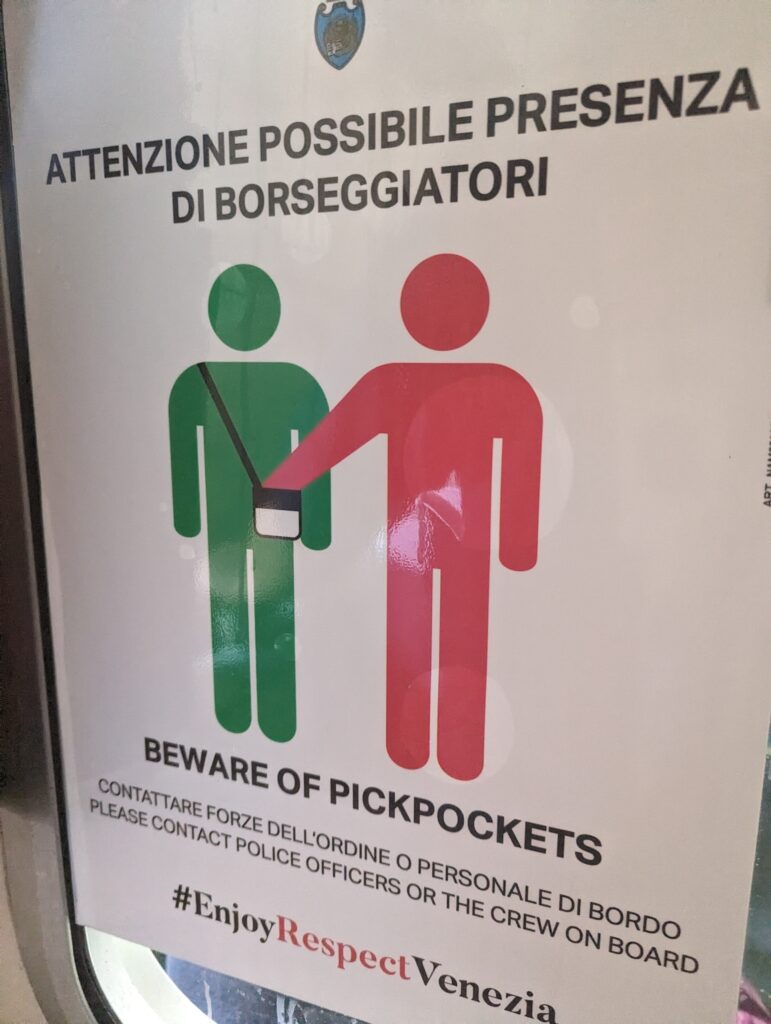 We were warned about pickpockets and scammers. A woman we know was pick-pocketed in Paris while we were in Italy. She blames her own inattentiveness but really, the one who should be blamed is the thief. There are distraction scams and begging scams and all manner of ways to separate you from your money. We didn't see many of them in action. But we were super wary, especially when walking through crowds. I use a theft-resistant, cross-body travel purse with pockets that lock and a strap with steel wires inside that can't be cut.
Some Europeans are fed up with tourists. Who could blame them? We got fed up with tourists sometimes and we were tourists! Imagine you're trying to order a take-out coffee before going to work and five tourists who can't speak your language are acting out their orders ahead of you. Venice had 22-million visitors this year. This, in a city of about 45,000. It's got to be frustrating.
Tipping Rules Vary
Tipping isn't customary in restaurants although people who help or guide you certainly appreciate a tip. At one restaurant they put a basket on the table and worded it gently. Something like – if you want to contribute to the tips, this is our basket! We always did. Sometimes there will be a modest restaurant "cover charge" which is basically a different way of collecting tips.
Backpacks are uncivilized and unwieldy, which is why you get whacked by them so often by otherwise nice people. Some also wear front-packs with their backpacks. What's next, calf-packs? Upper arm packs? It's out of control.
Legit, licensed cab drivers will never approach you. That's how you can tell you're about to be, literally, taken for a ride. And buckle up buttercup! Italian streets are chaos.
After water, Google Translate was our most valuable resource. Derek and a few taxi drivers had in-depth conversations about everything from the nutty driving conditions to government corruption via Google Translate. It helped us in many situations. Thank you Google!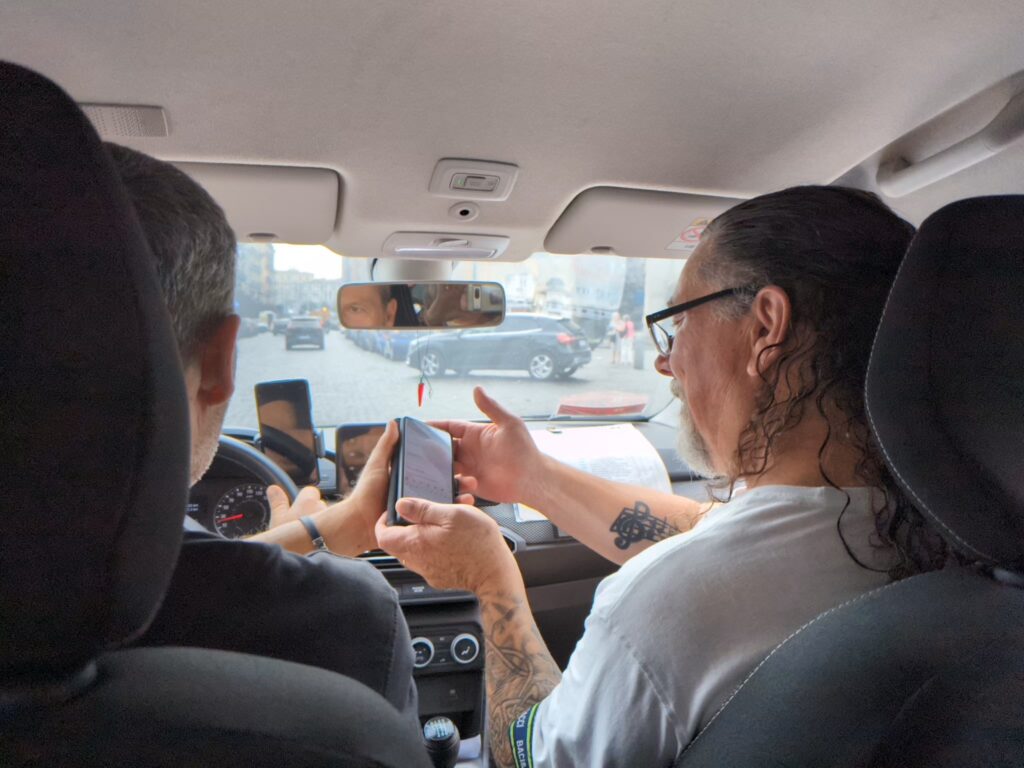 Young women and men in Italian cities are gorgeous and look like something out of a magazine. You, however, are a tourist, and you need to be practical and comfortable. Remember to cover shoulders and knees for religious sites and wear something you wouldn't mind going to dinner in, because all that walking is exhausting. Once you get to your room, you might be finished for the day. I would have packed more loose skirts. They provide a breeze in the heat and look fine for any kind of restaurant. I wore either my hiking shoes (basically heavy sneakers) or Skechers sandals every day. Comfort, comfort, comfort.
Dick Pics
Italy is big on symbolism. No matter what it is, if it's long and pointy, it's meant to represent a penis. I'm not kidding. In the holiest of places, throughout ancient Pompeii, and at the tackiest souvenir stands, it's all about the penis. That chili pepper symbol you see everywhere? Don't be naïve! You know what it really means. And so does that nun who's ushering you out of her sacred space.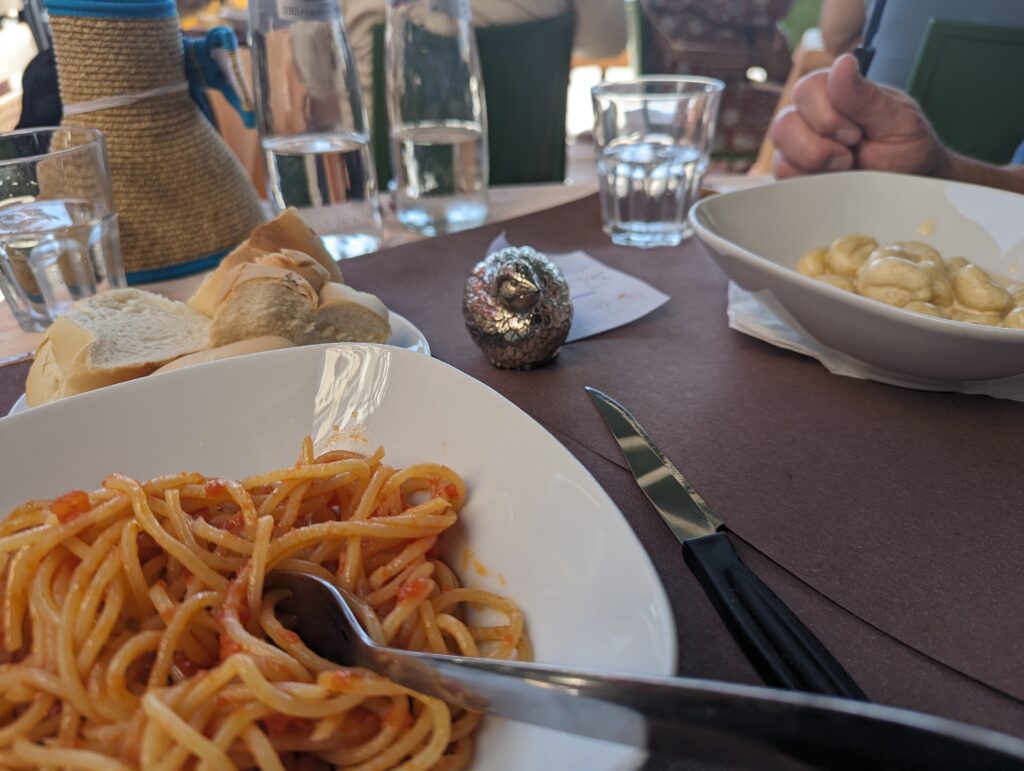 In 22 days, we had only one meal in Italy that we would tell you wasn't great. Otherwise, everything was fresh and fantastic. We chose mom-and-pop restaurants for authentic experiences. Many restaurants have Maître Ds and career waiters, so service is wonderful. Some things are different, though. It's not routine to have someone pop by and ask how everything is. And you will probably have to ask for the bill. No one likes to rush things in Italy.
Apps You Can Trust
For train travel, I used an app called Omio to book all of our trips. It was super easy and it meant we avoided lining up. There was never an issue with a digital ticket. I could book a few days before or the day of travel and I never had a problem.
Other helpful apps included Expedia (my go-to), Hotels.com, Booking.com, and Blue Pillow. I canceled and changed reservations on the fly without an issue. Take note of cancellation dates, though, or you could be on the hook if you want to make a change.
A woman behind me at the Capri sky ride whacked me with her backpack three times before I said anything. I turned around and smiled. "Are you in a hurry? You're welcome to go ahead of me!" Oh no, that's okay, she said and turned to her husband, hitting me with her backpack again. Friggin' backpacks.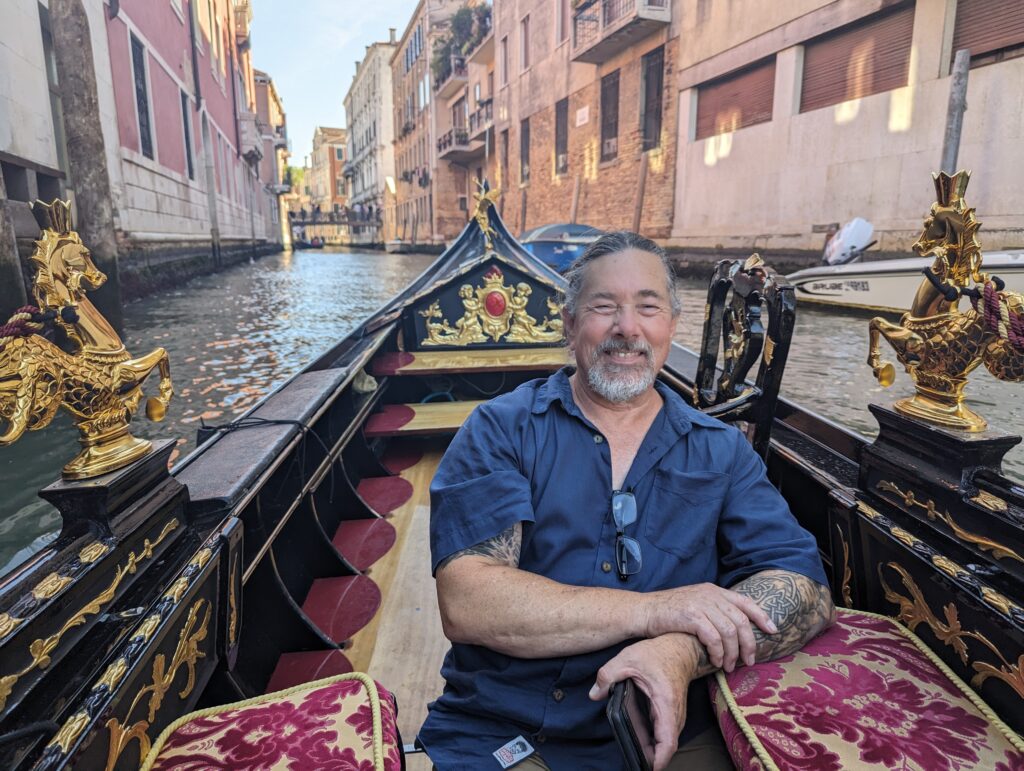 Before we left I bought eSIMS for our phones from Airalo. We downloaded the eSIMS to our phones, shut off our regular SIM cards and used Airalo for all of our Internet needs. For $33 each we got more data than we could ever use for the whole trip. That compares to $330 each that our phone provider would have charged. The only thing we couldn't do was text, but Facebook Messenger and email sufficed. As an alternative, you can purchase a physical SIM card at airports and swap them for your regular SIM. (If you don't know what a SIM is, don't try to do this by yourself!)
Italians don't wear purple! They're superstitious that it's bad luck to wear purple because it's associated with death. You won't see purple clothing anywhere and not much burgundy.
On the advice of a local, we ventured to a Rome department store called La Rinascente. It has all of the international brands that are out of our price range, but the top and bottom floors were fun. It was also air conditioned and gave us a welcome break from the heat. The top floor is a foodie's paradise, from local olive oil to Italian-made chocolate and pasta. And the basement is home to lamp, furniture, and accessory designs like we've never seen before. Recycled plastic pink elephant sculptures. Large make-up bags with the word SHIT embossed on them. Futuristic electronics and sound systems. A massive room full of Christmas décor with thousands of nutcrackers. It was so much fun to browse.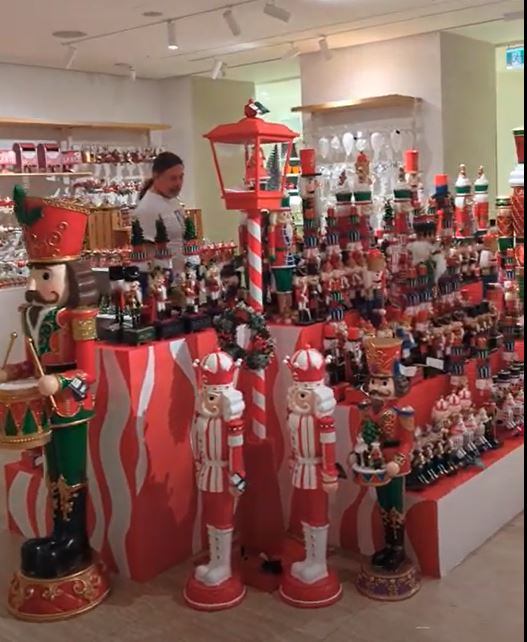 Sometimes when you're wading through a sea of reviews and options, it helps to get a real-life opinion. I hope some of these experiences have helped. Now, please excuse me while I write reviews of our stays, restaurants, and of course, leave zero stars for backpacks.