My first bite of Italian pasta, in Italy, made by Italian hands, was everything I hoped it would be.
The spaghetti, thick and perfect, was cooked al dente. It was served with simple, fresh, tomato sauce that stuck to the noodles and didn't leave a pool of water on the plate. The portion size didn't overwhelm me. It was so delightful, I couldn't stop grinning.
That was our first lunch in Venice. We had arrived the evening before, and stayed overnight near the airport, in a lovely place called the Bella Onda Inn. They picked us up within minutes and made us feel at home.
That night, we went across the street for pizza which we took back to our balcony to enjoy. To our surprise, it wasn't cut. We learned that in Italy, you either eat your own pizza with a knife and fork or you cut a piece from a communal pizza to put on your plate. We had no utensils so we tore that thing apart like starved wolverines and devoured it. It was delicious.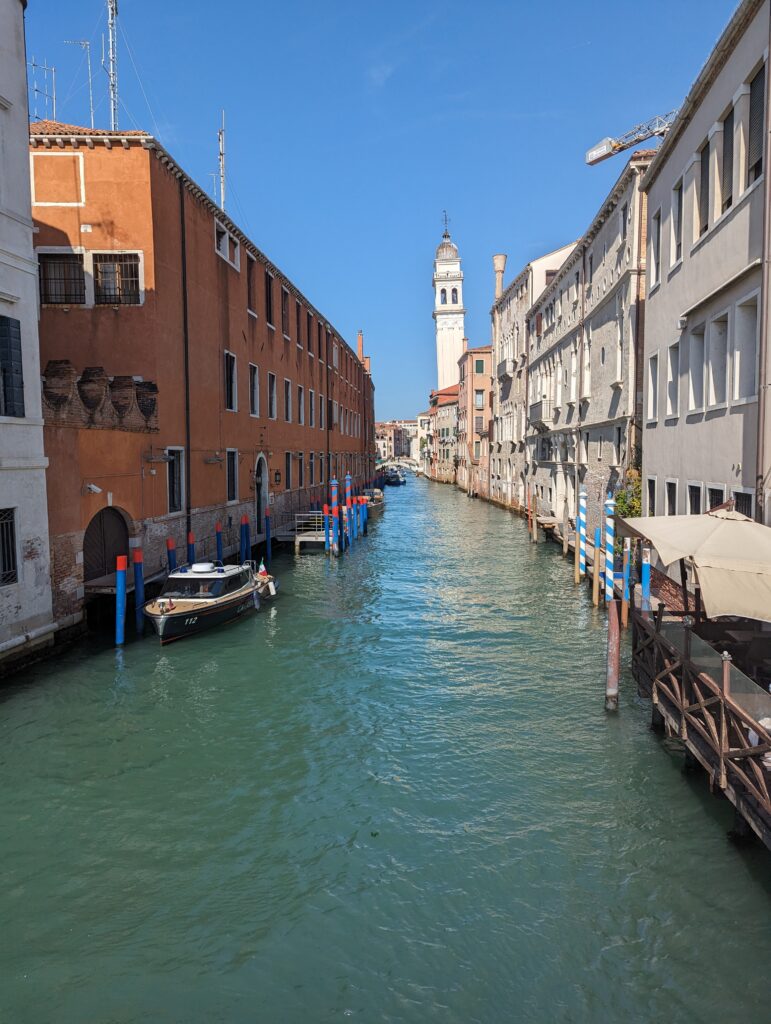 We explored Venice while staying in nearby Mestre. The city bus was fine, until it wasn't. We ended up on a bus so hot and so packed that people were leaning on the doors and almost falling out at stops when they opened. Our hotel concierge suggested the train which was a world apart for just a couple more Euro and from a station only a block away. Clean, spacious and fast. We became train people inside cities as well as between them.
You've seen the canals of Venice in photos. But Venice is so much bigger with so many more canals than I imagined. We visited some of the major sites like St. Mark's Square. Took a gondola ride. Walked around the island of Murano, home of Murano glass. And we used an all-day pass for the water bus as our makeshift hop-on-hop-off tour vehicle for various stops.
Visiting Venice was a dream come true. There's so much to learn about how and why it became what it is. The city is going to impose a 5 Euro charge on day-trippers next year in hopes of bringing tourism numbers down. If you can pay for a trip to Venice, I don't think five Euro will be a deterrent but we'll see.
FLORENCE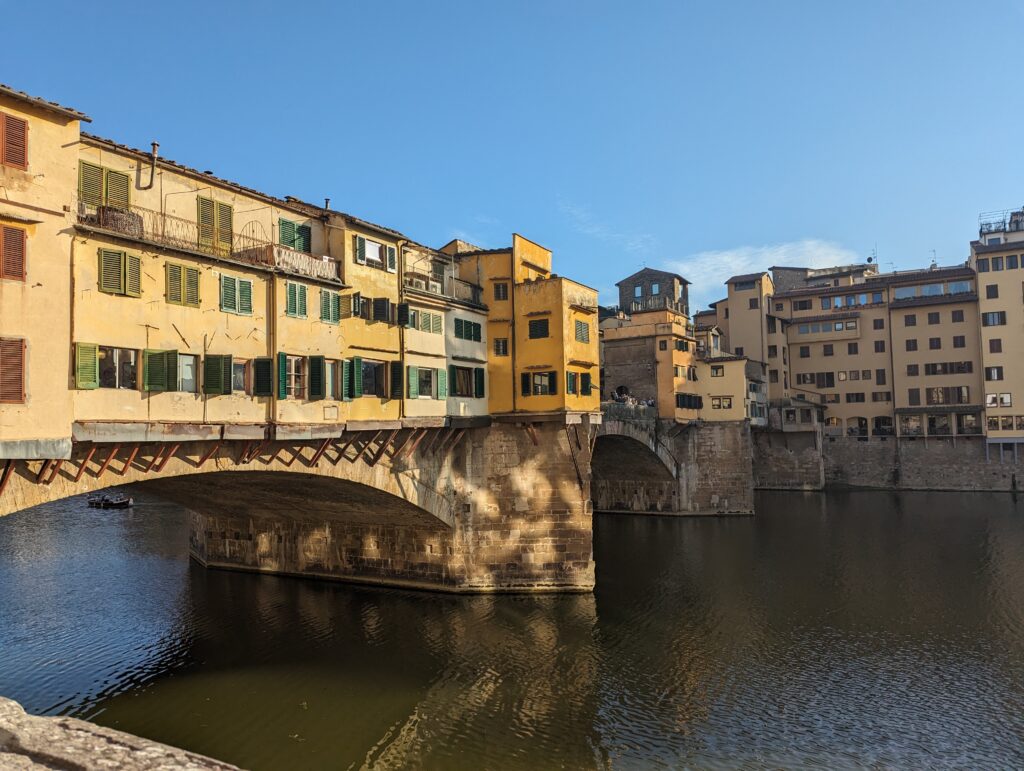 This was the cleanest city on our tour. However it was also the worst of our accommodations. The location was terrific but the elevator for which we had a key didn't exist. So, we dragged our luggage up more than 80 steps. The air conditioner sounded like an engine with loose metal inside. And the shower was gross.
But we loved Florence and all of its rich history. We looked around on our own and had some wonderful encounters with friendly locals and fellow travelers. We also took a train to Pisa where we were the only people not taking a photo where we pretended to hold up the Leaning Tower!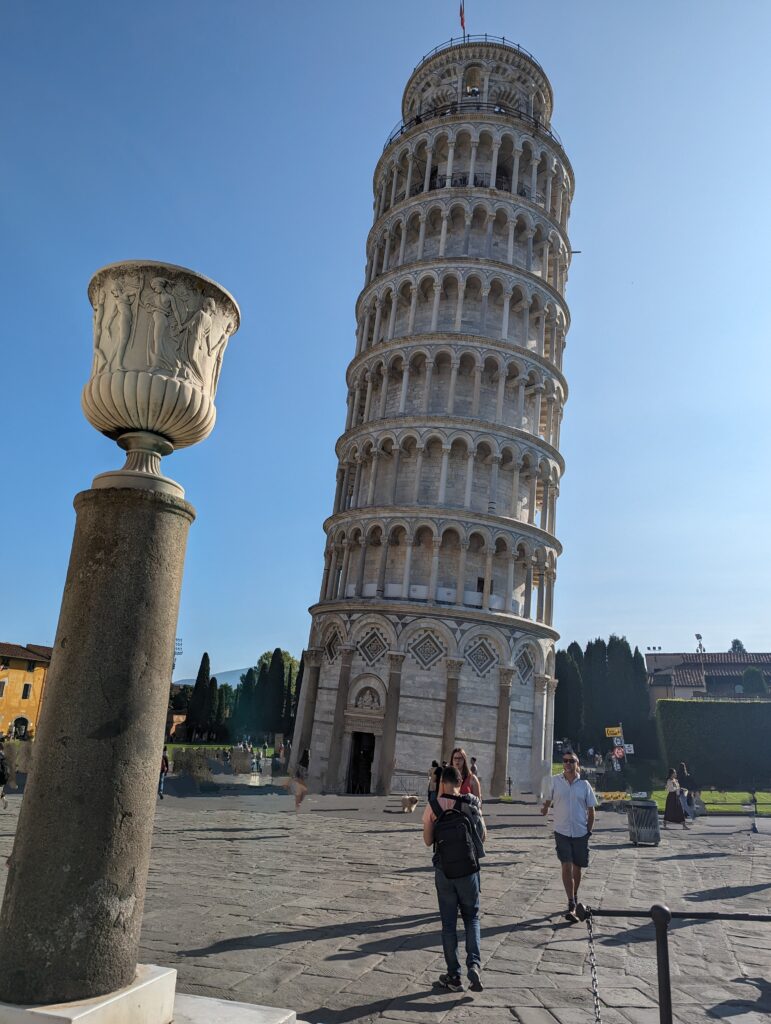 ROME
It was the most peoply stop which tells you something because the crowds were thick everywhere we had been. It's called the Shoulder Season; the time between peak and off seasons. It's called "shoulder" because it's the rounded part on a bell curve where numbers drop off. My oh my, Rome, what big shoulders you have!
We had a wonderful stay in a beautiful place near the Trevi fountain called I Tre Moschettierri – The Three Musketeers. You might ask how I managed to get an almost people-free photo of the Trevi Fountain. It's because I people-watch.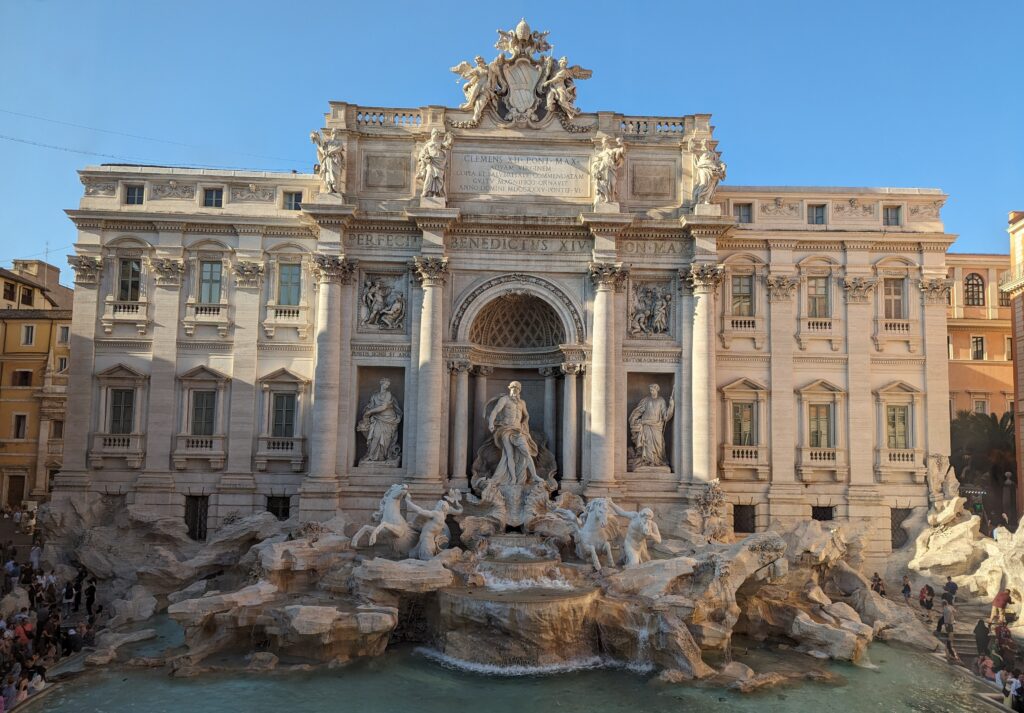 We had popped into a store across from the landmark to look for shorts for Derek. A woman came up to the second floor and started taking fountain photos out the window. I called her a genius. She laughed. And when she was done, I took her spot. Without that overhead view, there were thousands of people in the way.
Thanks to some great advice we got before we left, we had booked a private guide who took us to the Colosseum, the Pantheon, and other fascinating stops. Maria was wonderful. It was like having a knowledgeable friend all to yourself. We could almost hear the roar of the crowd during "the games" as she brought it all to life. And we didn't wait in a line for anything. Maria was a highlight of our trip and worth every cent.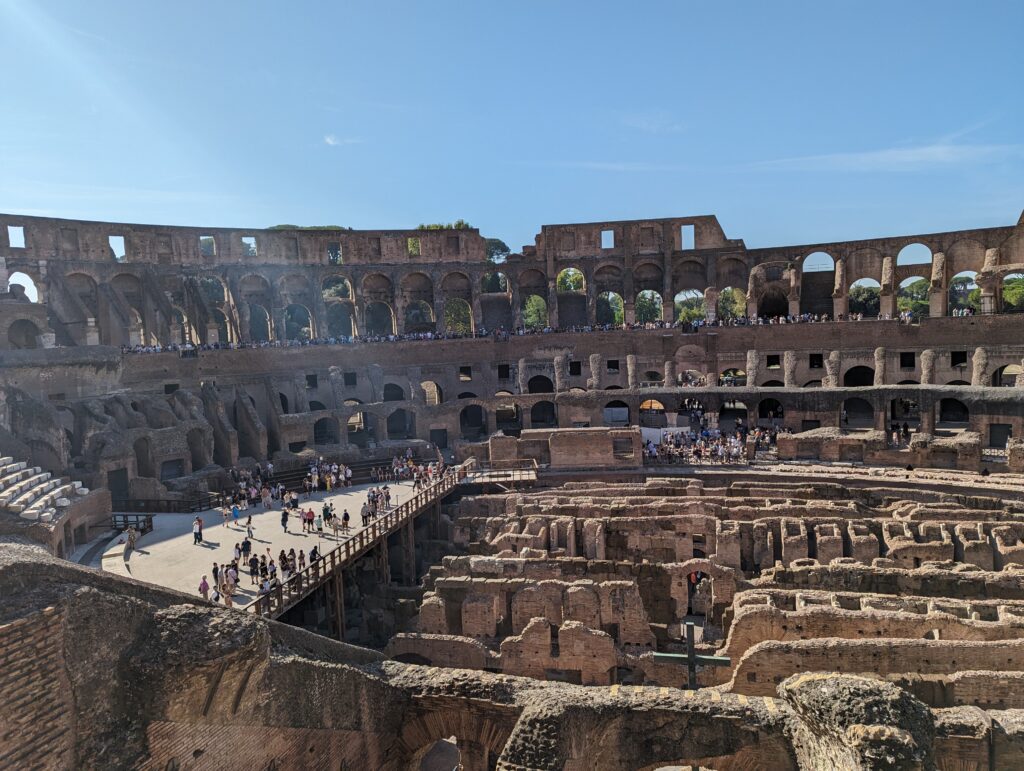 The crowds and the 30+ heat and humidity were exhausting, so on a free day I Googled "lesser known sites worth seeing in Rome". We followed up on a suggestion to walk to Rome's oldest bridge – built in 62 BC – that spans half of the Tigris River. The workmanship is incredible and it's still in use. Nearby, we enjoyed a wonderful lunch without hundreds of people traipsing past our table. It was a nice break from what had become normal.
Every day, we walked and walked in the hot sun, so on our last day in Rome we bought tickets for the hop-on-hop-off tour and never hopped off! We stayed on board for two 90-minute round trips. It gave us an overview of the city and some places we hadn't yet seen and weren't crucial to us, such as Vatican City. It was a relief to feel a breeze and let someone else do the work to get us around.
SALERNO
The morning we left Rome, our hotel ordered a taxi that never showed up. The woman at the desk ran out and said, "There's a protest at the train station – no taxis can get in or out. Go up the street and take the metro, it's the only way!"
So, that's how we got to know Rome's clean and efficient subway system. We had dragged our bags up a long, steep hill and ran to the train, so we looked like hot messes but we made our connection.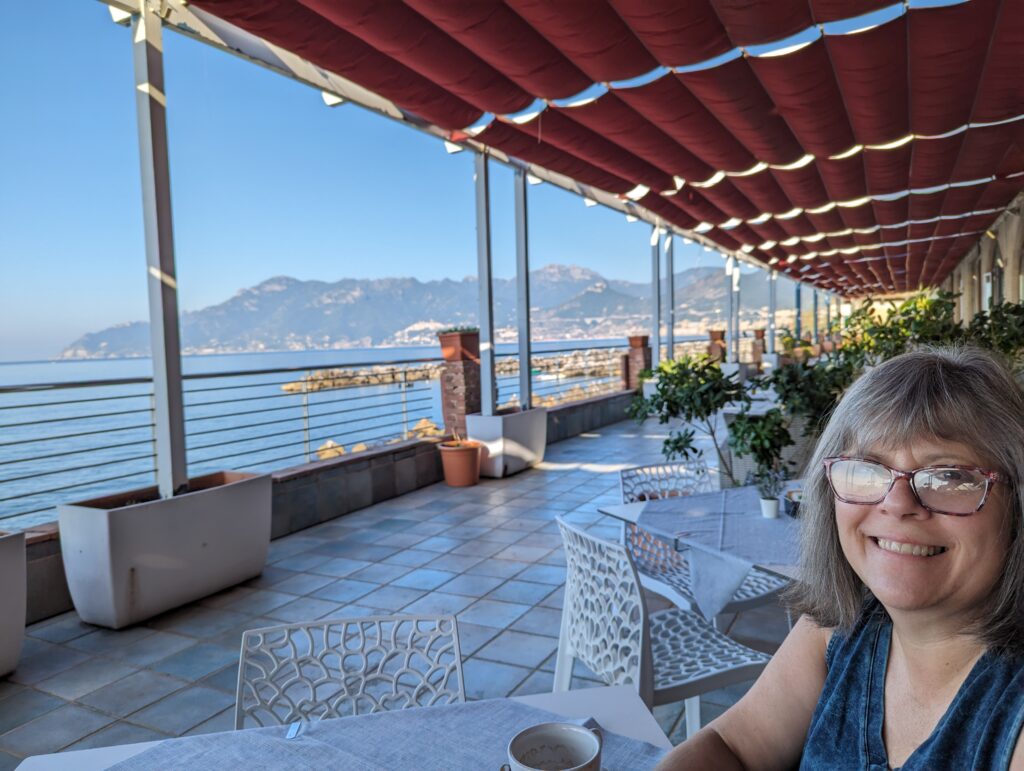 In Salerno, we stayed at the city's only hotel overlooking the water. In addition to plenty of walking – of course – we used this time to relax on the beach and on the deck at the hotel where we read while the waves lapped the shore beneath us. It was very chill.
This is also the city where we met up with Gracefully and Frankly listener Julie Anne, her husband, Rob, and their friends, Jo-Anne and Marcel. What a wonderful bunch of people. They shared travel experiences with us and helped us shape the rest of our trip.
NAPLES
I'd been told that Naples wasn't great but I still wanted to visit the birthplace of pizza. And it was a good starting point to see the ruins of Pompeii and Capri island.
Our hotel was a gorgeous oasis in a not-so-nice area. Elisio Hotel and Spa's building was built in 1725 and still uses the original marble staircase. (Btw it is "spa" in name only.) The closer you get to the water, the better the city of Naples becomes. The people are wonderful and so proud of their city. And the pizza – fantastic!
Derek's cousin Vicki flew in from England and we went to the airport to greet her. The first thing we did as Naples tourists was drop our bags at the hotel and set out in search of coffee. We happened upon a little stand run by very old woman. Two of her friends, her only customers, occupied one of the outdoor bistro tables. She didn't speak English but we ordered coffee and she was so happy.
She brought us an old school concoction of espresso in tiny cups, poured over a quarter inch of sugar. It was tepid and as strong as gasoline. We managed to add water and a little milk and choke it down out of politeness. Honestly, when we sat down it was like she saw a whole new market opening up for her. We didn't dare insult her and ruin her happy mood.
POMPEII
The next day we visited Pompeii on a "small group" tour. The bus ride was a trip in itself. We went from a mini bus to a giant bus that swerved and swung up hairpin roads, only to back down one of them – praying the brakes would hold – and start again up another. We still don't know why. It was still very sunny and humid and peoply but Pompeii was absolutely fascinating. Our guide – a different Maria – was great. We saw visitors fumbling with maps and trying to figure things out on their own. I get it – it's much cheaper to just get a ride to Pompeii and do your own thing. But you miss so much without a guide.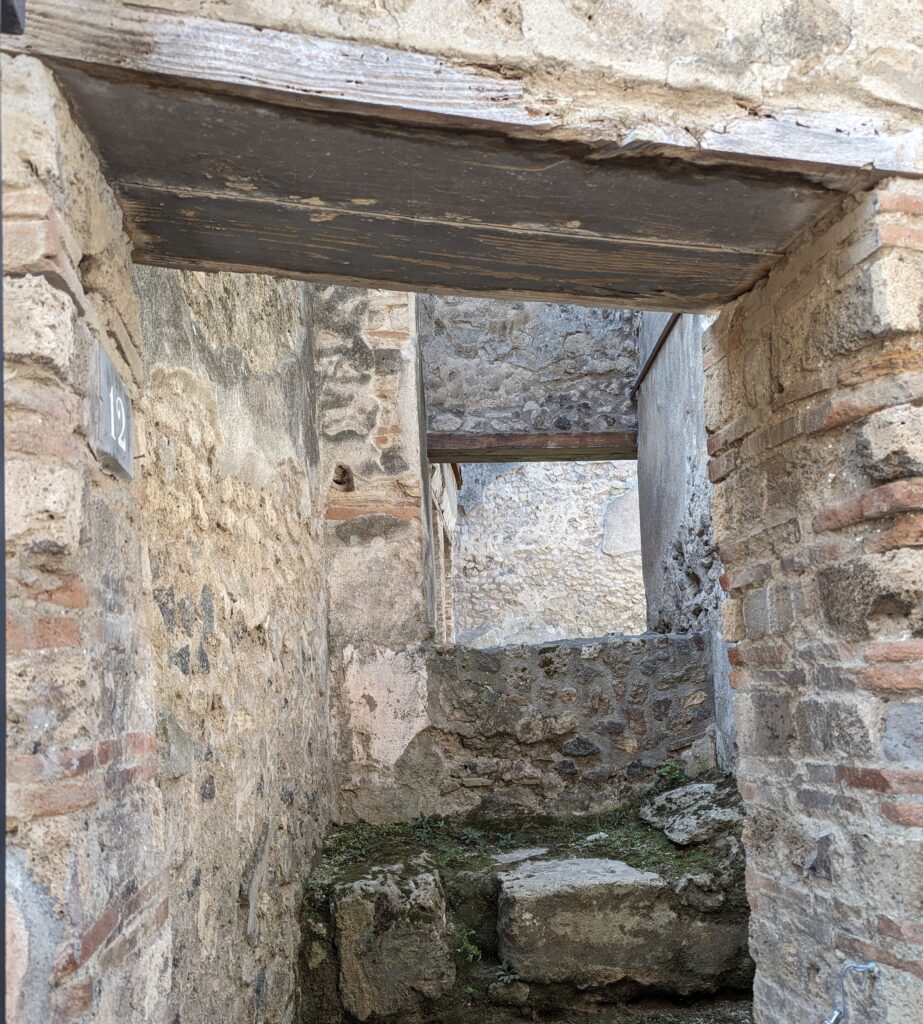 The tour I had booked included a visit to Mt. Vesuvius which I now know was overkill, especially in oppressively hot weather. Derek and Vicki said no thanks to the steep trek up to the top of the volcano. I got about halfway – stopping to wheeze and rest in the stifling heat – when I asked a couple coming back down what they thought. She showed me the photo she took of the giant hole.
"Did you go – wow – when you got there?"
"Nope. I didn't think it was worth the trouble."
The rest of the hike was going to be even steeper. I decided going halfway was good enough. Down I came for my reward of a cold bottle of water.
CAPRI
The following day, we went to the island of Capri. It's absolutely gorgeous. No wonder the beautiful, rich people of the world frolic there.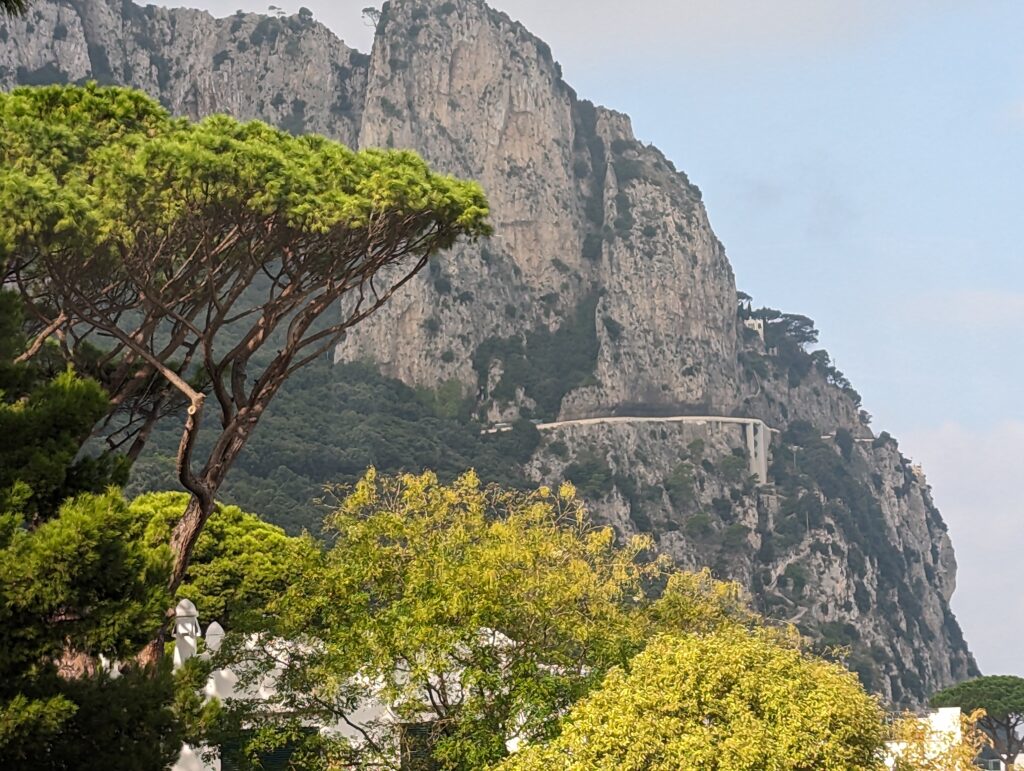 We spent time in Upper Capri, Capri City, and then on a wonderful guided boat tour around the island. I took the sky ride to the top of the island and back, which was amazing. (Derek and Vicki declined.) And we had one of our best meals in Italy on Capri. Homemade scialatielli (ribbon pasta) bolognese, gnocchi carbonara, and eggplant parmigiana.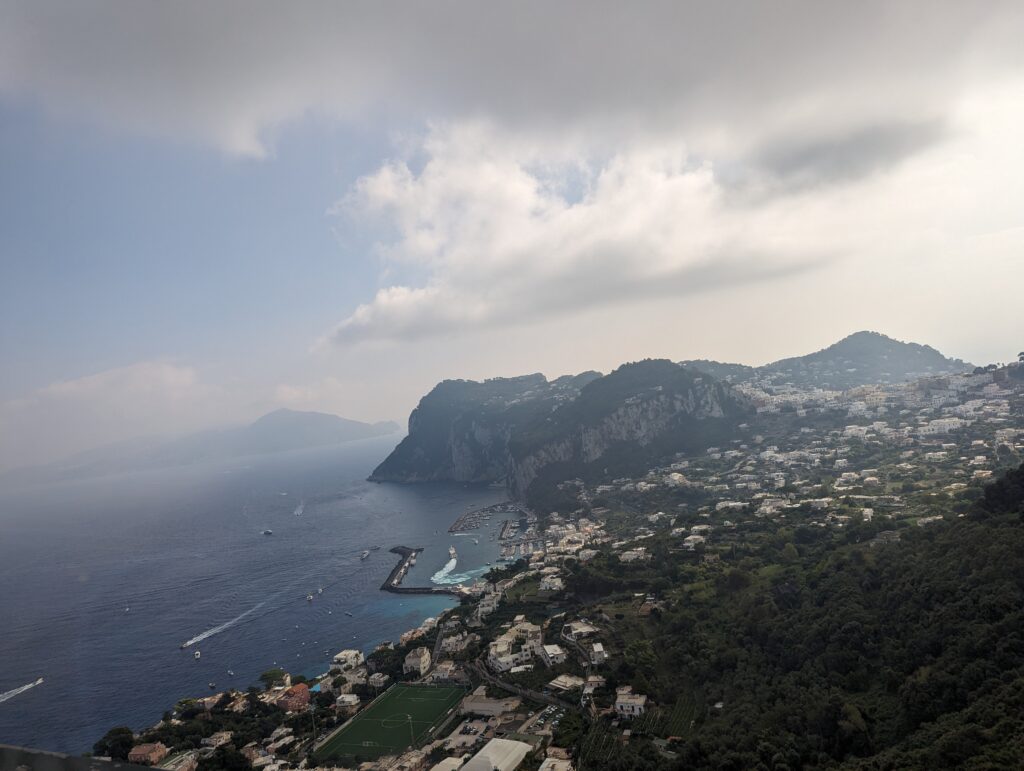 Naples has its charms but they're admittedly harder to find than in other Italian cities. I did some research and cobbled together some info from reading news articles that explained why it seems dirty.
The mafia used to collect the city's garbage. (Very Sopranos!) But they would bury and burn the garbage and the government outlawed those practices and took the trash pickup responsibility back. However, the city isn't keeping up with the output and they don't have bylaws against putting a couch or construction debris on the curb. So, the bins overflow before pickup and no one has ever cleaned up the old messes. There's litter and debris that is part of the landscape now, in some areas. In Florence, crews are out before dawn, emptying trash bins and scrubbing the piazzas. In Naples, they step over it.
Graffiti is something we saw throughout Italy. Not artistic expression – just lettering and tagging. It's so prevalent that it's almost like no one notices it anymore. I never got used to seeing lovely little shops with spray paint all over the outside walls between them. Only the most precious monuments and sites are spared, but not by much.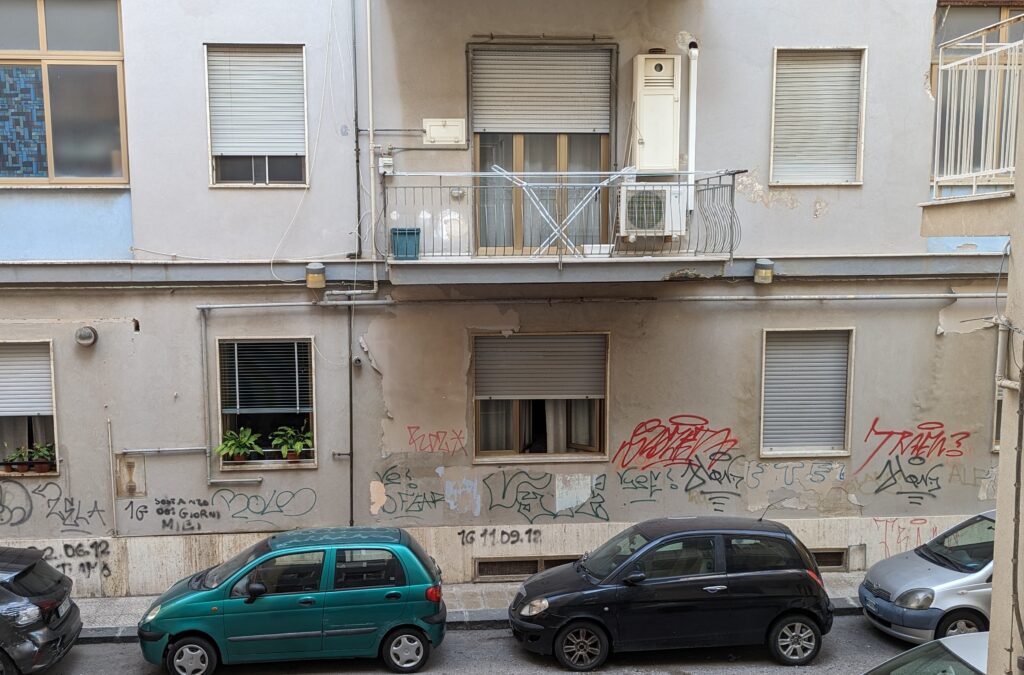 I would not drive anywhere in Italy. It's chaos, but everyone there expects it so they deal with it. In Salerno for example, there are few stoplights except for pedestrians to cross. You want to merge onto a main street? Push your way in! Scooters fly between lanes of cars at ridiculous rates of speed. One of my funniest memories is of Vicki's look of horror as our taxi driver flew through the streets of Naples, tossing us around in the back seat. We were laughing but it was a little scary.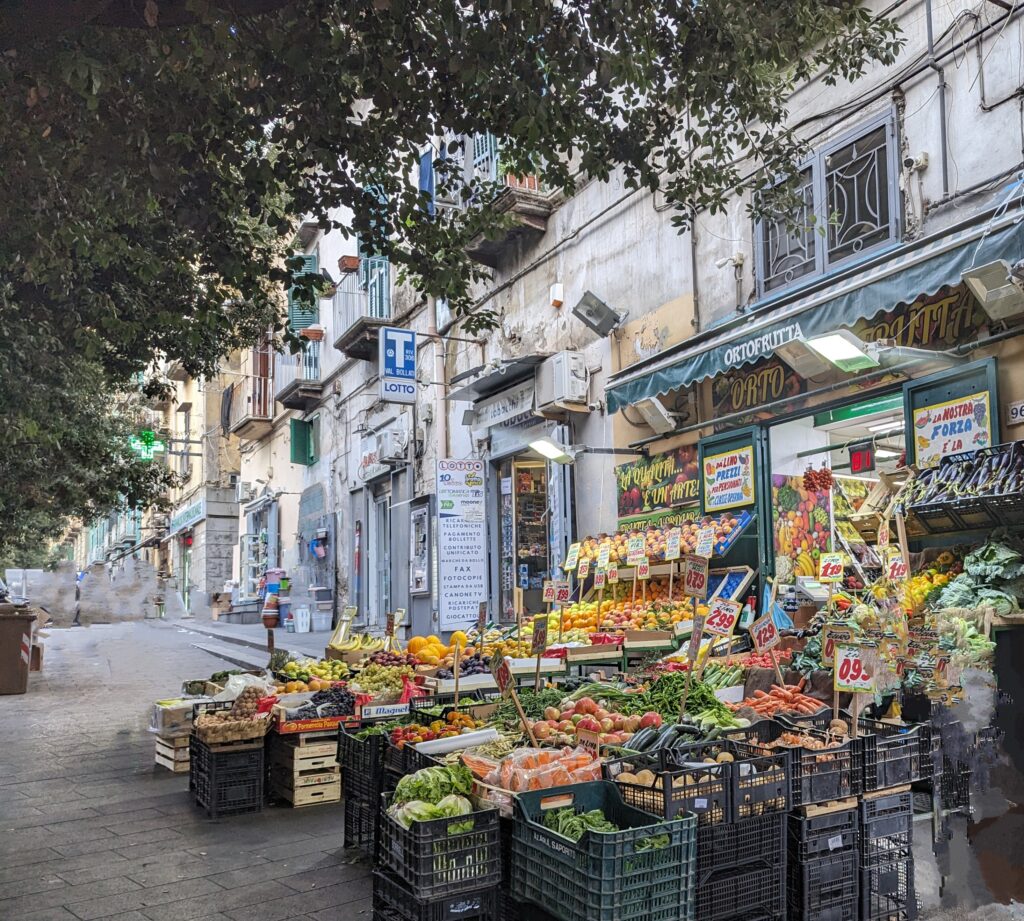 SALERNO REVISITED
We were going to spend the remainder of our time in Naples but after Vicki went home to England, we went back to Salerno instead. I got a little Air BNB just a couple of blocks from where we stayed before. We watched the seasons change before our eyes. One day, the beach was full of people. The next, the umbrella and chair rental guy packed up for the season. We had our first rain of the trip. We got to know the local shops, grocery stores, and restaurants. There was no rush to do anything or be anywhere to catch a ferry or a dinner reservation.
We met up with the daughter of our dear friend Monique, who is traveling the world with her boyfriend. Selena and Conor are having an adventure they'll never regret. After a night in Salerno, they left for Sicily. They're going to see the world. We traded little tips about Italian culture over incredible rustic pizza in Salerno.
The heat, the crowds, the moldy shower in Florence – none of it matters. I'm saturated in gratitude that we were able to make this trip and see and experience everything along the way. Longtime readers may remember that my late Mom's big regret was not getting to see Italy. She was definitely with us in spirit as I carried her ashes in my purse.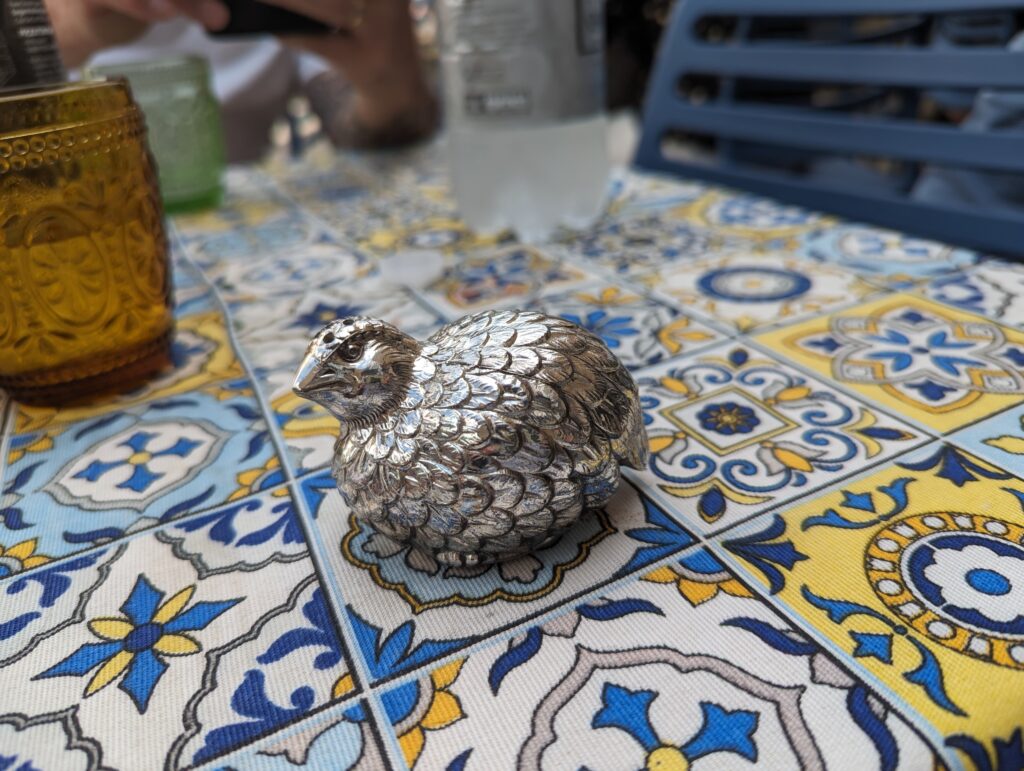 On Tuesday, I'll share some things I learned that will (hopefully) make your next trip abroad a little easier. Or simply reveal a little more about Italian culture. Ciao!