Derek has a weekly breakfast with a bunch of guys he's known since high school. One of them just had a pacemaker installed. Another, an emergency appendectomy. Still another will have to lie face down for weeks – WEEKS – after eye surgery to repair a detached retina. Four people we know have COVID-19. And all of this happened within the last week.

The night after I sent out that tweet, I dreamed I had an argument with a former coworker about what was more important: money or health. He argued in favour of money because the wealthy can buy the world's best health care. But if you're terminal, I responded, money does you no good. Health has to come first.
On and on the argument went. The dream was so realistic that I woke up feeling as it it actually happened. Ever have one of those? Of course you have. The next morning when I saw his photos plastered all over social media after an event (he's medium-high profile around here) I was pretty confident he hadn't snuck into our house and woken me for an argument. Besides, surely Derek and Cuddles would have noticed!
Spinning Like A Top
Meanwhile, I woke up last Monday morning with vertigo. For the uninitiated, vertigo is not dizziness. It's a completely disorienting condition where the world spins past you like pages of a book being flipped. Only it's the same page over and over and impossible to tell which way is up. It can (and did) make you sick to your stomach and afraid to move in case it happens again. And it happened over and over until finally, it stopped.
My friend Jen was simultaneously experiencing bouts of vertigo for the first time. (What's up with THAT timing?!) My brother is familiar with the condition. It's not rare, by any means, but you need to know what's causing it before you can stop it. Kevin mentioned exercises that supposedly correct an imbalance in the middle ear and having nothing to lose, I looked them up. Legitimate health websites (WebMD, the Cleveland Clinic, etc.) explain how to do it.
Thank You, Dr. John Epley
The Epley maneuver is a simple set of body positions done in quick succession. And I'll be darned but it worked. After a couple of days I felt stronger and the feeling that vertigo could recur at any time went away. And so did the episodes.
"Vertigo is often caused by the displacement of small calcium carbonate crystals, or canaliths, within your inner ear. The Epley maneuver — also known as the canalith repositioning procedure (CRP) — is a method to remove these crystals trapped in your ear's semicircular canal."

The Cleveland Clinic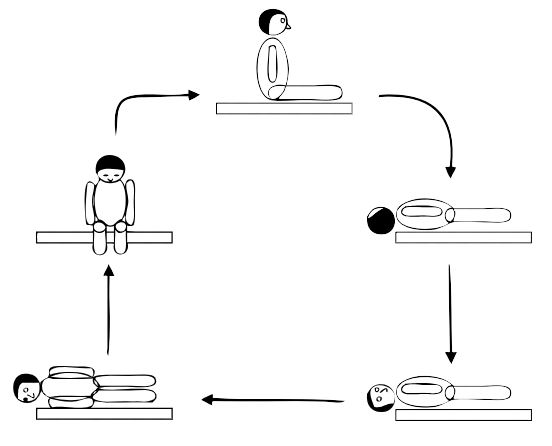 I've had motion sickness ever since I went to Universal Studios in the 90's. It was a radio station trip. We did the CHML morning show live from Universal and were treated like VIPs. Most of the rides were virtual, meaning you sat in a vehicle that shook and tipped as you watched a video. Some of them shook pretty violently and that would have been enough to knock these crystals out of place.
But vertigo thirty years later? That doesn't make sense.
Epilogue
The crisis has passed and other than feeling a little weird if I bend down, I'm back to what passes for normal. There are other causes of vertigo, so please don't assume it's nothing if it suddenly arrives and it's out of character. Kindly note the above declaration that I'm not a doctor, etc.
Our buddy with the new pacemaker won't be allowed to drive for the next month. The appendectomy patient is being looked after by his wonderful wife who had a similar emergency a few years ago. Our pal with the detached retina has already undergone several surgeries and has more ahead of him. The COVID patients are starting to test negative. Everyone's on the mend and should return to good health. And if I had to pick one, I'd choose health over wealth anytime. I'll continue to argue that point in my sleep if I have to.