Life is hard. Stuff happens that's out of your control. People move, leave, die. You have to take your cat to the vet and not come back home with him. (Us, on Monday) But people also do amazing things for others with no other motivation than it's the right thing to do, and it feels good.
Years ago, I lamented the rarity of the thank-you wave in traffic. Now it seems, the verbal thank-you is becoming less common and the written one is virtually extinct.
I still love sending and receiving old-fashioned cards. You can buy a pack of four thank-you cards with silver lettering on thick, cream card stock at Michaels for $1.50. I've always got some in stock. I never know when an occasion might come up and it's good to be prepared. A little hand-written note, a stamp and ba-da-bing, you're showing gratitude and possibly even making someone's day.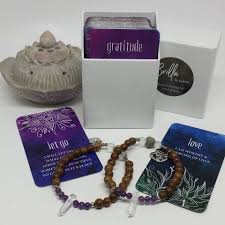 I get it. Sometimes it's difficult to feel grateful when the kid is sick and the boss is pissed off and the car breaks down and dinner burns, all at once. But we should. And I need reminders, too. That's one reason I love these Intention Cards by our friend Jodene. (Visit Brilla by Jodene on Facebook)  I keep the box on my desk and before I open up my laptop, I pull one out and consider its meaning for a bit.
In a recent discussion, a philanthropist (who would rather not be named) said he hears from less than 25% of organizations he raises money for. That's how few say THANK YOU to this person for all they do. It floored me. This wealthy man chooses to use his powers for good, but he rarely even gets a nod from those groups he helps.
I know of another event manager who dedicated an entire evening to a cause, only to have them behave ungratefully when a check for thousands of dollars was presented to them. "We expected more." The same amount of effort, planning and dedication went into the event, regardless of what this charity's Executive Director expected. And people gave. But she didn't seem to care.
No matter what's going on in life, there is someone much worse off who's wishing they had what you have. Didn't get exactly what you wanted? Change your mind about what you want and want what you have. It's a point of view I haven't always been able to maintain, but I'm trying. And if I haven't said it lately, thank you for visiting. I'm grateful for your time and comments.