It's such a kick to see my book in the hands of so many people on social media.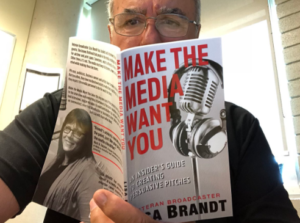 That's my former boss Jerry Chomyn, who hired me to work at CKNX Wingham. I spent four years there learning, partying and (lucky for me) rising through the ranks. Jerry is now the Program Head of Media Studies for the University of Guelph-Humber. He's busy winning awards, changing lives and being a guide and mentor to budding broadcasters.
I'm also grateful that Stacey Thompson (BOOM FM in Toronto), Allison Graham (the Resiliency Ninja), Peggy Chapman (Senior Director of Operations with the Hamilton Bulldogs), Marty Menard (of Two Reasonable Vegans podcast) and others have been kind enough to show the book's cover and mention it via Twitter, Instagram and Facebook.
The first review has now been published. All I asked for in exchange for a preview copy of the paperback, was honesty. So how can I not love a sentence like this?
This is a very informative book and it is written in Lisa Brandt's signature witty conversational style.
The full review by journalist Rick Young is HERE. And thank YOU for reading it, wanting to read it or just putting up with blog posts about it.  Nine days until publication date. But who's counting?