A weekly series about life and discoveries as a recent "import" to Port Stanley, ON.
My most frequent – and really only – complaint about living in Port Stanley is this darn hill!
If you've visited Port Stanley, you've probably driven up or down it. It's the steep, winding slab of Joseph Street that takes us into or out of the village. It connects to East Road, which sprouts off Sunset, or #4. There's a huge, new firehall at the corner. It's how you get to our house.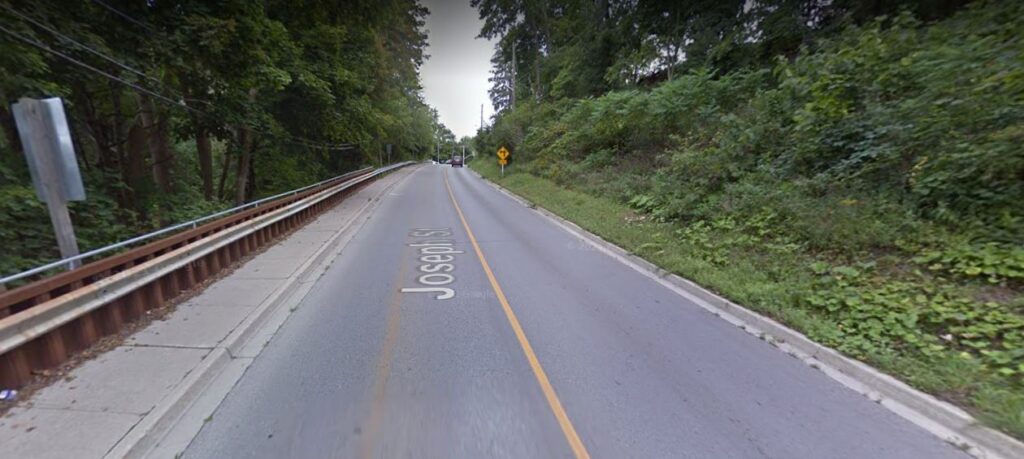 The sign says the hill is a 12% grade. Depending on the day, it can feel closer to 45%. Most days, we walk past this hill at the top and take a narrow winding road past beautiful cottages and homes to a wooden staircase down to Little Beach. But you have to get back up to get home. And that's where this (stupid!) hill comes in once we've walked along the harbor and through the town.
This picture shows about 1/3 of it. It's relentless and the worst part of our walk. It didn't seem to be getting any easier (but it probably was) despite nearly daily treks. Some people have told us they'd never walk it because it's too steep. Others practically float up it because they've been doing it for so long.
The Art of Distraction
The first few times we walked up the hill I complained like a vegan in a steakhouse. Then I started to work on my attitude long before we approached it. This involved plenty of silent self talk. It's a challenge, I told myself. It will make my heart healthy and my legs strong. I do feel much better having done it. It's the "doing" part that I loathed.
We invested in good hiking shoes with better tread. That made the trek harder, actually, because the shoes are so much heavier. I bought a pack of about 3,642 thick sneaker socks for better comfort. Then, on the advice of my sister-in-law Kelly, I purchased adjustable hiking poles and became one of those people others make fun of for using poles. But when you transfer weight to the poles it's easier on one's arthritic knees and bad attitude. The poles allow me to ascend the hill without having to stop or feeling like my chest is going to burst open like there's an alien trying to get out.
In short, I've done all I can to stop hating the hill. I still kind of hate the hill. But the poles are a game changer. I carry them on the rest of the walk and put them to work on the hill. It's still a good workout but one that doesn't leave me praying for lightning to strike me down.
I have noticed that I can bend easier and farther than I used to. My legs are getting stronger. Derek says he has better breath control for narrating. That stupid hill has a lot to do with these personal improvements.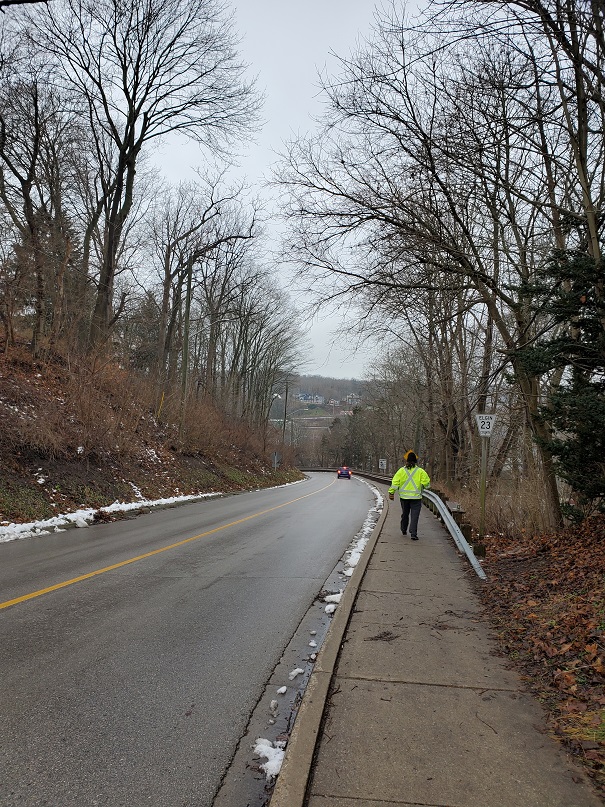 You need a local to tell you that its name is Schoolhouse Hill. There's no sign proclaiming it. And there's no school, at first glance. However, if you look over the railing near the bend at the bottom, you'll see the town's post office. It's in a building that used to be a school. Ergo, Schoolhouse Hill.
The hill has many positive qualities, when you're not huffing and puffing your way up it. The ravine is home to various wildlife. It's quiet and has a sidewalk for safety. There's a bench, albeit a rickety one, at the top, for sitting on and catching one's breath. It's a quick way to get to the village. And living up high has protected us from any flooding the town has experienced during storms.
Schoolhouse Hill isn't a Rocky Mountain or even Boler Mountain. But it's our most challenging terrain here in our small village. (There's another steep hill – Front Street – but it doesn't go directly into town.) I realize that my dislike of it is directly related to my lack of fitness. The silent grumbles aimed at fast-walking old ladies and tiny dogs making their way up the hill with ease, are only deflections from grumbling inward. This I know. And so, I continue to force myself to trundle up it, and hope to learn to love it. But that's a long way off. And if it's true that familiarity breeds contempt, that darn hill and I might never become friends.