ImPort Stanley is weekly series about life and discoveries by a recent "import" to Port Stanley, ON.
If you're a golfer, you're probably itching to get out again. I tried to be happy for a former colleague who's been golfing for a couple of weeks on Vancouver Island. But the green monster of envy rears its head! And I don't even golf anymore.
There was a time when I couldn't wait to get out on the course. I especially loved "best ball" tournaments because, despite my unusual stance and approach, I could hit a long, straight drive. Think Happy Gilmore but without as much lay-up. And I used a driver the size of a bread-and-butter plate. I was a terrible putter so I took pride in being able to contribute a nice drive off the tee.
Golf and I parted ways after I broke my big toe and it took ages to heal. Before that, I had once knocked myself out cold by whacking my temple on a hard cart canopy. Not my finest moment. Still, I loved the game and hated to give it up.
For those with stronger little piggies, Port Stanley has two excellent golf courses. Three if you count the one in Union, 3 minutes outside town. Four if you include a private course with an international reputation. But for the common man or woman, in our town there are two.
Kettle Creek Golf and Country Club is an 18-hole course in the heart of town. It also has a restaurant, wedding and meeting facilities and the whole 9 yards. (Pun intended.) It gets great reviews from visitors for its service and food. Reviewers describe the course as "challenging" with "great scenery".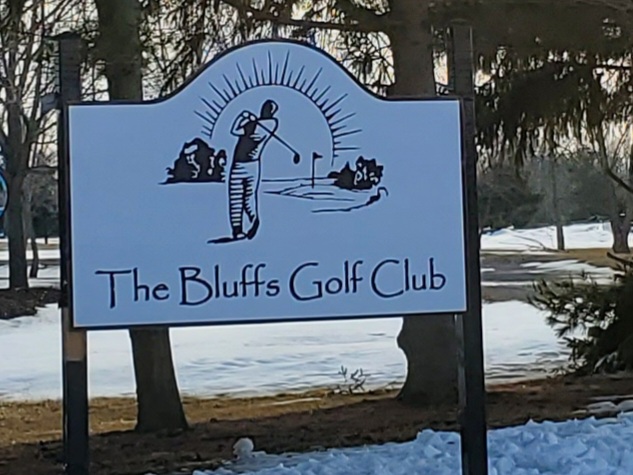 The Bluffs Golf Club is a 12-hole course a short drive to the southwest end of the village. It's perched high overlooking Lake Erie and the views are stunning.
Journalist Jeffrey Reed of LondonOntarioSports.com wrote about ownership of The Bluffs changing hands a few years ago, when its owner's father took ill in England.
"The Bluffs remains a hidden secret amongst Southwestern Ontario golf courses", says Jeff. "The view of Lake Erie is breathtaking – without a doubt the most scenic view from any golf hole in this area."
You won't find the private RedTail Golf Club advertised in your fave golf magazine, although it regularly makes Top 10 lists of best courses in Canada. It's so exclusive, it doesn't even have a website anymore. And you definitely won't find one of those blue Ontario destination signs to lead you there.
RedTail opened in 1992. Until 2021 it was co-owned by two London businessmen who sued and counter-sued each other over things like allegations of financial mismanagement and breach of duty. It's now owned by London car dealer Ryan Finch, a longtime club member. RedTail made international headlines when Queen Elizabeth II stayed in one of its cottages during a visit to Canada. Prince Charles, Sean Connery, Michael Douglas & Catherine Zeta-Jones, have stayed and played the "minimalist" course designed by Donald Steel.
And less than five minutes outside Port Stanley, in Union, is the St. Thomas Golf and Country Club. It's been in its current location for 100 years and undergone many renovations and expansions since then. Our family lawyer is a member and we hope to accept his invitation to lunch there this summer. You might not see me on a course again, but I still love to watch others play from air conditioned comfort.