ImPort Stanley is weekly series about life and discoveries by a recent "import" to Port Stanley, ON. Access previous posts on everything from shopping to hotels and our beaches by clicking the tag ImPort Stanley.
Candy, and cheesecake, and flowers – oh my!
Port Stanley has welcomed some new merchants catering to those with a sweet tooth and a love for sweet scents.
The Candy Gram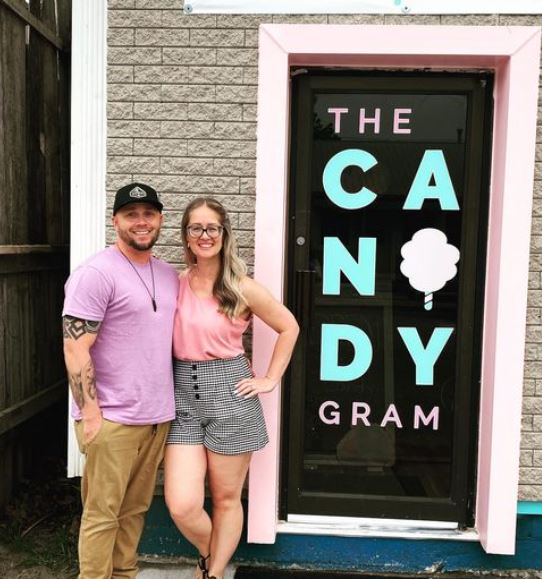 The Candy Gram has moved into 162 William Street, the former home of Drift. They feature cotton candy, snow cones, chocolate and many other treats. Owners Amy and Jerry are high school sweethearts whose families have been cottaging in Port Stanley for decades. They have two young children who support the business in advisory roles. Our neighbour Carol works there and I think she's a candidate (candy-date) for the title Candy Floss Queen. It's a sweet place – pun intended. The Candy Gram is open Wed & Thurs 12-5 and Fri-Sun 11-6. It's a short walk from the main beach.
D & L Village Juicery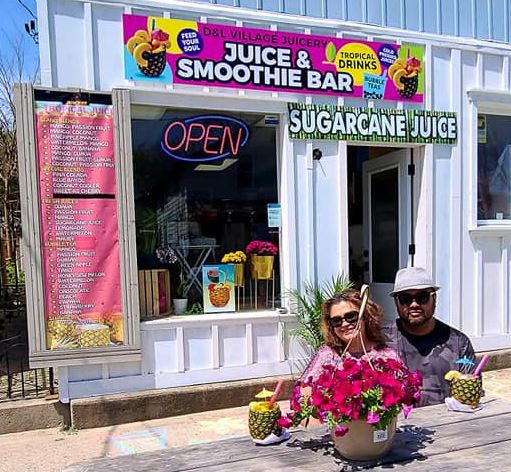 Derek and Elisa's first location opened at the main beach last year. Now, they are preparing for a second juicery in the Fire Hall Market at the bottom of Schoolhouse Hill. The couple told the Port Stanley Villager that they thought they were sailing into retirement in Port Stanley. They had founded, grown, and then sold a successful juice/smoothie-making company in Toronto. Apparently the juice business is like the mob – you can never really leave! Their Fire Hall location will lean a little further into the healthy aspects of juicing.
HARBOUR CHEESECAKE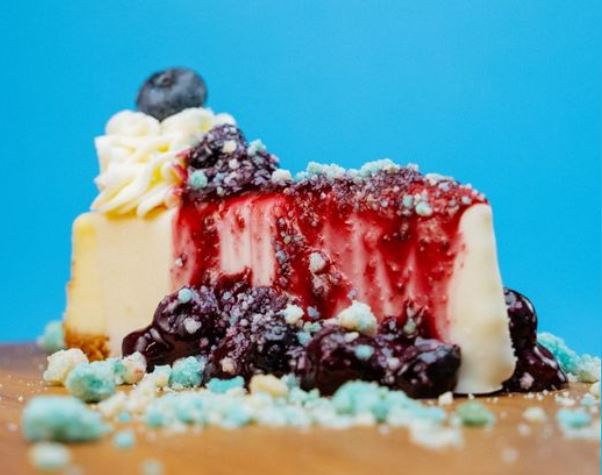 Harbour Cheesecake is literally at the water on the harbour, at 204 Main St. near Nado Skin & Body. They offer 9 different kinds of homemade cheesecake by the slice, with pop-up flavours to come this summer. I can hardly resist. The taste buds are willing but the waistband is not!
FLEURS FRAICHE
The name says it all: fresh flowers. Fleurs Fraiche, already known in London and surrounding areas for their deliveries and flower subscriptions, now has bricks and mortar beside Drift's new, larger location on Main St. Owner Melissa is delightful and clearly loves what she does. Melissa was an event planner without events to plan during the pandemic. She had already conceived the concept for Fleurs Fraiche and decided to give it a go. It's a winner! You can design your own bouquet, or – as I did – give Melissa an idea of what you like and she'll do it for you. And she gave me some freshness tips. The vase should be clean enough to drink out of. I must offer my heartfelt apologies to flowers from the past. And a drop of bleach will keep the vase clean but not hurt the flowers. Who knew?
*some photos above were sourced from public Facebook pages.