ImPort Stanley is weekly series about life and discoveries by a recent "import" to Port Stanley, ON.
For some travelers, it's not a getaway unless there's some pampering involved. From a fresh haircut to a hot stone massage, Port Stanley has what you need when it comes to style and aesthetics.
I get my hair cut by Lauren, owner of Hair on the Harbor. It's in a beautiful old home on Colborne Street. Lauren is just wonderful and in addition to all hair services for men and women, A State of Bliss is part of the HoH family. Check their website to see the wide range of services, from Reiki to massage to customized therapies.
Between HoH and Apropos is Angry Bear Barbershop. (The flagship is in St. Thomas) They offer traditional towel shaves, beard grooming, and haircuts.
Trista is my RMT, at Nado Skin & Body, right on the harbour. Owner Lacy specializes in non-invasive, medical grade skin treatments. She offers laser hair removal, waxing and more. Trista operates there and she's terrific. I have chronic pain from a neck injury and she helps keep me from climbing the walls, or popping pain relievers every day. She also does hot stone massage.
A new hair salon has opened up beside Nado. Joan of Crown and Glory has been styling hair for many years. Now she's doing it with a spectacular view.
Also nearby is Blu Harbour Spa and Boho Boutique. Mannies, Peddies, skin care, lashes, hair removal – all that and more is available.
If Yoga is your thing, you can find it at dawn on the beach or in a studio. Kaleidoscope Yoga Studio hosts classes, retreats, and special weekends. Connected Yoga has four teachers and offers group and private classes. They allow drop-ins for a reduced rate so you can try before you buy.
And now, a public service announcement: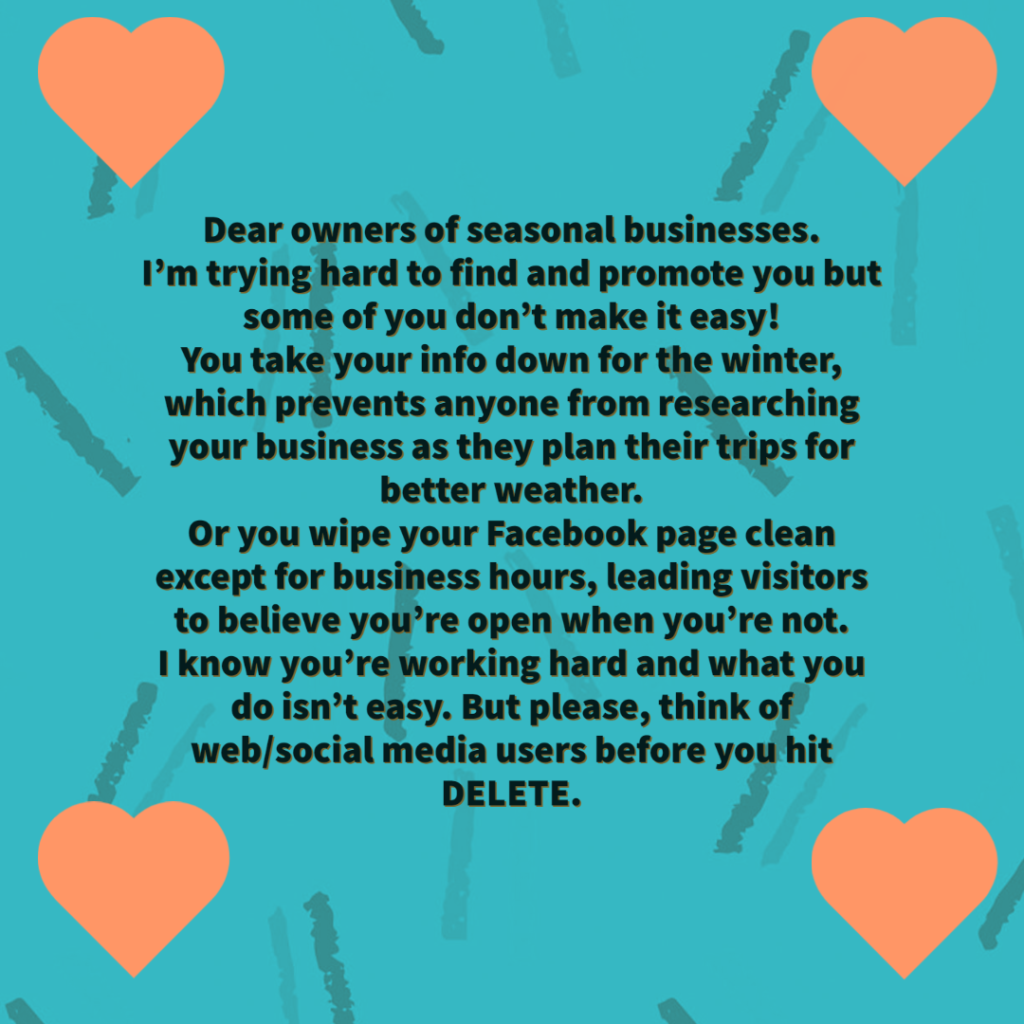 Now, where was I? Oh yes. If you're a gym-goer and you want to keep that up while you're here, Port Stanley Fitness Centre has 24-hour access. It overlooks the harbour which is better than TV when you're on a machine.
Looking for a supplement or natural foods? The Storehouse is your stop. It's just a few doors down from the Kettle Creek Inn on Main St.
And how about some pampering for your soul? Being around beautiful things (see my post on Port Stanley shopping) and/or plants does that for me. Moore Water Gardens has been around for 90 years. They specialize in water lilies and aquatic plants. Just writing that sentence gave me a sense of calm.
Have I missed anything?
Please let me know in the comments! Thank you. And happy pampering.