Music is in the air. We are almost ready for summer. My husband and our neighbour Bill recently built our backyard fences. Our pergola is partway up, soon to be completed. It won't be long before we're spending warm evenings outside enjoying the ambience. Is it just me or are winters getting longer?
Summertime in Port Stanley will once again bring live music and other gatherings. We've shaken off our masks in most places. Social distancing is still in vogue but fun is definitely back.
The Legion is home to lots of live music. Sometimes, if the wind is blowing the right way, we can hear it in our neighbourhood. June 25th is the Legion's Lobsterfest. Note that Sarah Smith is on the sked for July!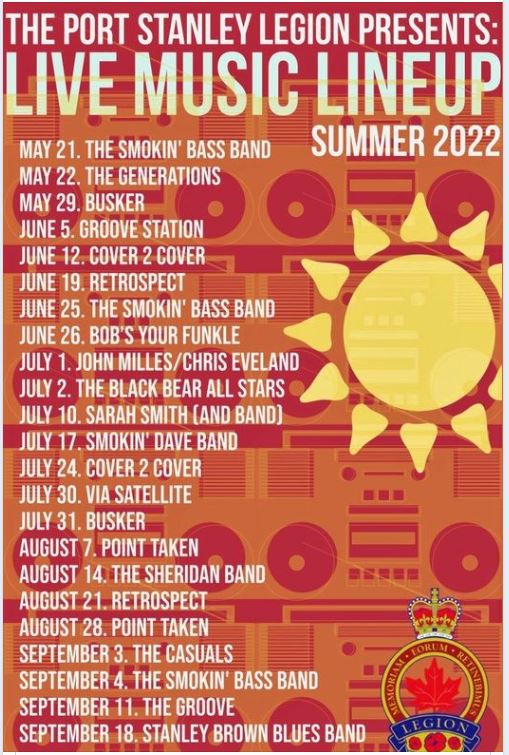 There's a buzz about the Calipso Festival finally returning, too. There have been fundraisers and calls for volunteers. People are getting excited!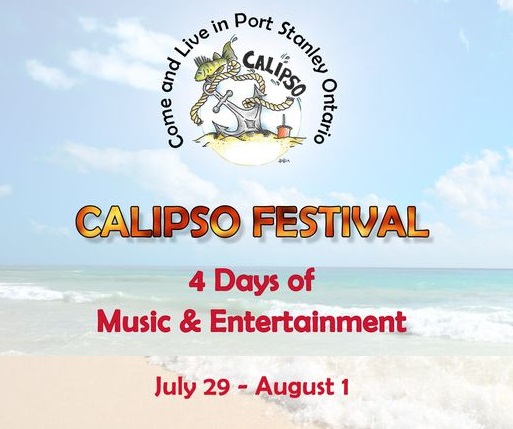 This event will include a fish fry, a vendor market along the harbour, boat rides, a sandcastle competition, and fireworks.
The Pierside Pub, GT's on the Beach, Barnacles, Solo on Main – many of the eateries add live music of different genres to the ambience when weather allows. Check for listings on their Facebook pages or HERE.
Something Fishy Going On
Fresh fish from fishers is the freshest fish there is! Golem Fisheries, across from Joshua and Company at 189 Main St, is now open daily, 10-6, Yellow perch is $21.50/lb. Pickerel is $15/lb. They have lots of parking on site.
And while we're on the subject of parking, Port Stanley has a lot more paid parking this season. It's partly because of twits who block driveways and simply leave their vehicles anywhere they can find, with no regard to residents.
There's two-hour free street parking. A $100 season pass gets you into the municipal lots for the season. Otherwise, check for the machines and download the Honk mobile app to make sure you don't get a ticket. I wonder if this is why there is always a car parked in front of our house. Maybe I'll put up a Honk sign of my own. Or go straight to a ticket!
Until next time, enjoy your fun and fish in Port Stanley!