Visiting Newfoundland was really about my Mom.
Our road trip to Newfoundland came about because my Mom asked me to spread her ashes there. It's where she was happiest. For a few years in the 1990s, the family business relocated to The Rock. They hired locals, made great friends, and fell in love with the island. My Mom wasn't often at ease, but she said she felt more relaxed in Newfoundland.
A few days before she died she told me not to bother. It was too much trouble. Nonsense, I said. If it's what you want, I'll do it. She just smiled.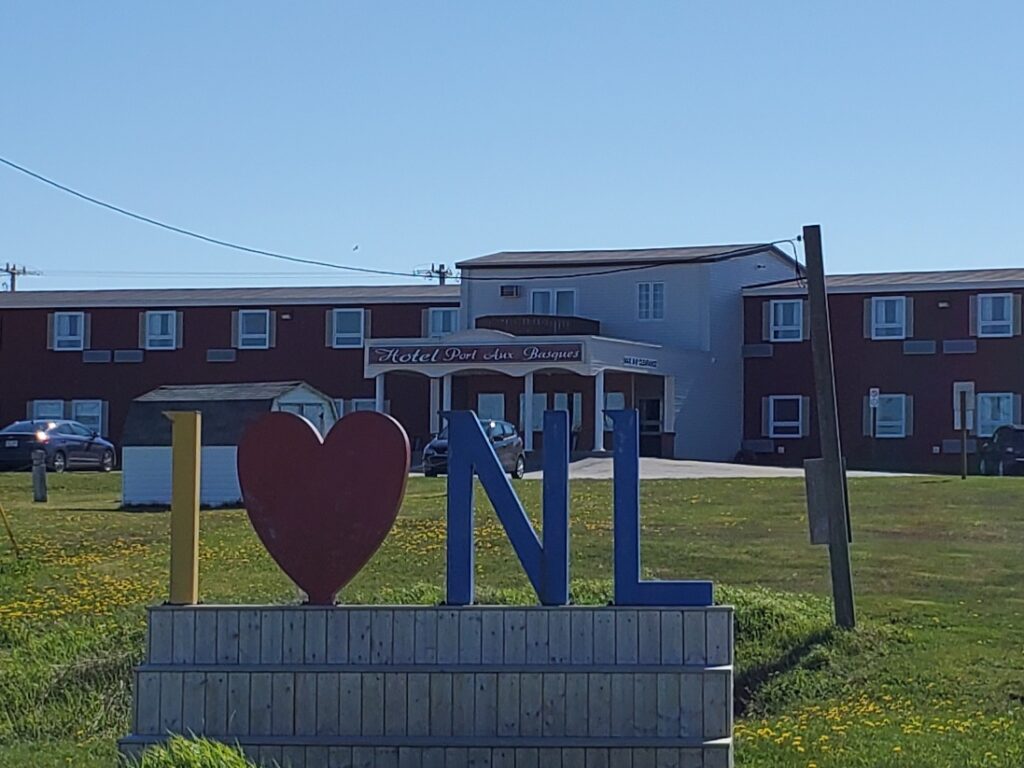 Derek and I planned the trip for early in the tourist season on purpose. Some Newfoundlanders (and the official online brochure) told us this would be the best time to see icebergs and puffins. Ice breaks free and sails past Newfoundland in humongous chunks. Puffins are adorable little birds. That's all I wanted. To see an iceberg and a puffin or two. And to fulfill the mission of returning my Mom to the earth.
Whether the Weather
I've never found much sense in complaining about the weather. Oh, I do it, sure. I'm human and I'm Canadian. But I've also never driven all the way to Newfoundland only to endure five straight days of crappy weather. Rain so heavy it created little rivers on the roads. Wind so strong it threatened to put us down on our butts if we dared to challenge it. Sometimes the rain tapered to drizzle before changing back to rain. It didn't get above 10 degrees and it was generally closer to 5.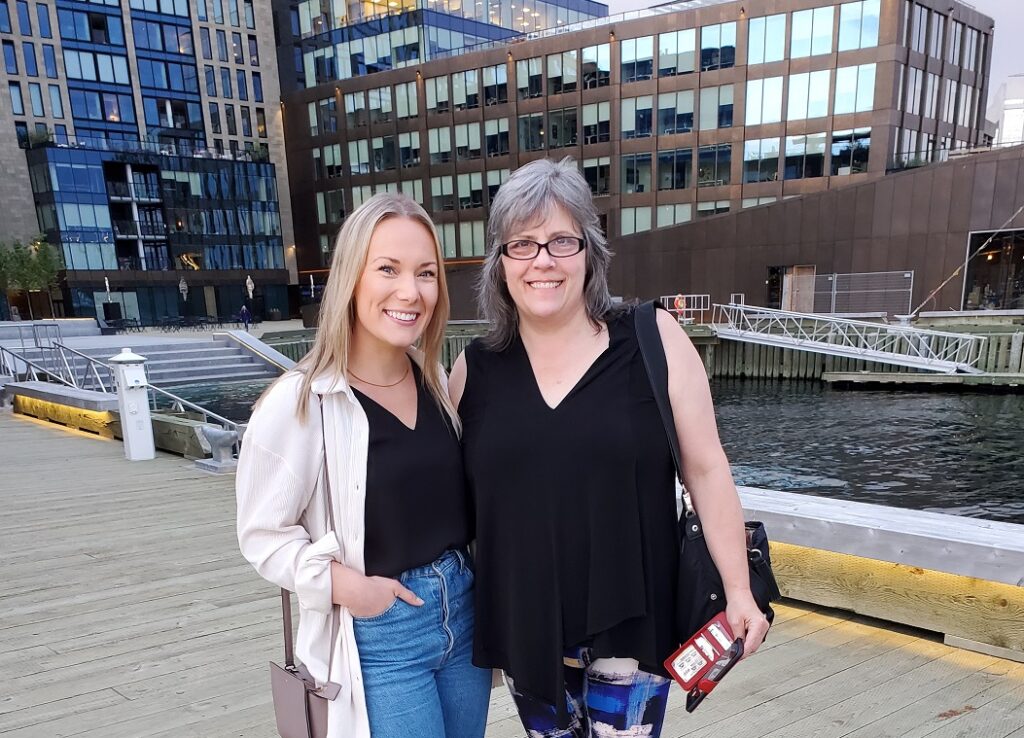 We spent our first night on the road in Montreal. We went up to Scott's Bay, Nova Scotia, to visit my cousin Wanda and her fiancé Spider. They have a special love story and are two of the happiest people we know. Then down to Halifax where we had a terrific dinner and evening with Derek's wonderful daughter, Ceilidh. We strolled the new boardwalk along the harbour.
The next morning, we took the ferry to Port aux Basques, Newfoundland. Depending on the load and the weather, the trip can take up to 8 hours. It was a little choppy but no big deal. I lost count of how many transports were on board. The 17-hour ferry to Argentia was still a couple of weeks from starting its season.
After a night in Port, we made our way to Grand Falls-Windsor in steady rain. But we're optimists. We consulted the iceberg tracker app and detoured north to Leading Tickle. A large berg was just off the coast. A couple of hours later we arrived to thick fog and mist. We couldn't see past a few little islands off shore. As we made a U-turn at the peak of the Tickle, we saw we weren't alone. Others had made the drive only to join us in a disappointing drive back to the Trans-Canada Highway.
The Big City
When we arrived in St. John's, we decided to give ourselves over to experts. We booked a boat tour with Iceberg Quest for the next morning. But as we drove around in heavy rain to various attractions that all required hiking, which was out of the question, we got a notification that the boat trip was cancelled. They wanted to take us the next day, but we were hitting the road again. During a lull when the rain turned to drizzle, we walked the entire downtown and harbour of St. John's.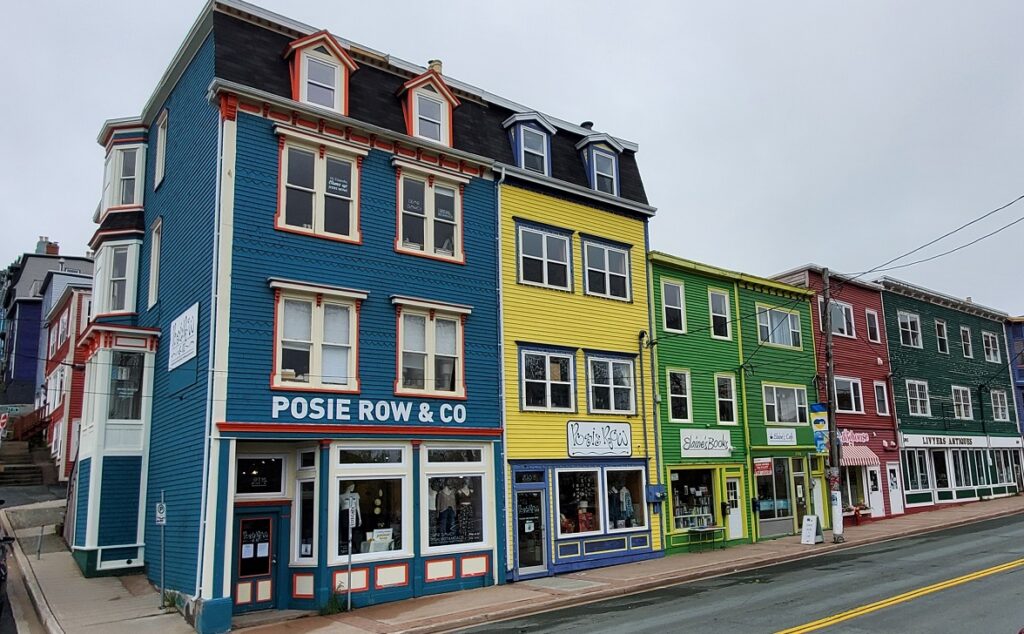 St. John's is packed with colourful salt-box buildings, small businesses with friendly merchants. It's a lovely, unique city that charmed us.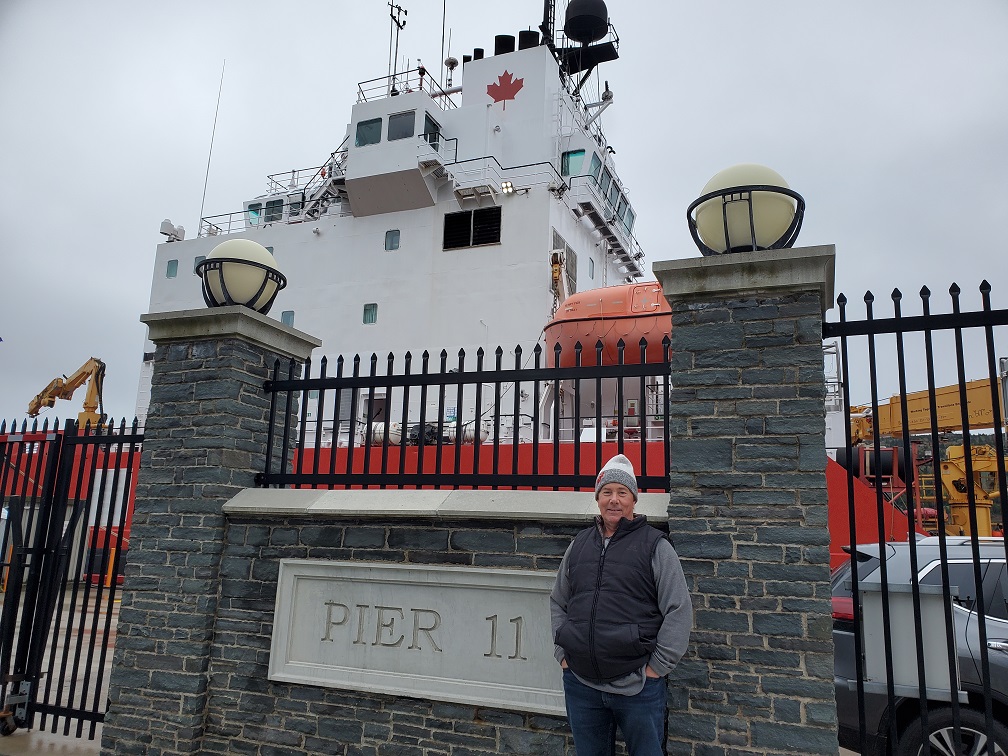 We needed a break from the weather and Top Gun Maverick in IMAX was just the thing. You expect to get gouged at the treat counter but the theatre employee simply wouldn't let me pay $4.50 for a bottled water. He filled a large pop cup with ice water and handed it to me with a smile. The movie was great. A little cheesiness, a few clichés, but ultimately satisfying.
And we can't say enough good things about our hotel: Jag Boutique Hotel. It's rock and roll themed and just terrific. They're doubling its size, too, with Covid-delayed construction now well underway.

The morning we left St John's we took a side trip to Argentia. There we found a beautiful, rocky shore where I spread some of Mom's ashes. I thought I was all cried out but grief had other plans. It was incredibly emotional. But it also felt right.
We hadn't seen any of the wonders I'd hoped for but we did see four moose in our travels. Luckily, these moose were all doing moose things well away from the highway. Perhaps our deer whistle – we'd lost one somewhere – was doing its job on moose, too.
My Last Selfish Quest
We had a night in Gander and I'd read about a piece of the World Trade Center metal on display. It was a gift to the city from New York to say thanks for Gander's legendary hospitality on 9/11. We drove to the airport and I ran in so focused on my mission that I forgot to put on a mask. A security guard was on me in seconds, leading me to a complimentary face covering. Ooops. I told him why I was there.
"Oh, that's in the International section and that's closed for renovations. Come back at the end of the month."
"We're only here tonight. There's no way?"
"No Ma'am."
I felt my whole body deflate. The hunk of metal was elusive too? I won't lie. When I got back in the truck, I pouted. The only iceberg I'd seen was in a photo. Same for puffins and whales. Now no rusted metal. And it continued to rain.
Derek cheered me up by explaining that the Salmon Interpretation Centre was now the Salmon Interpretive Dance Centre. And his fish tale came with demonstrations! Salmon sure can bust a move. Later in the trip he went into great detail about Maine's Moose Disarmament Act of 1850. He definitely has a gift for story-telling.
It's The People
Crap weather aside, we loved Newfoundland. We kept running into a couple from Hawaii, Rick and Amy, and they agreed that Newfoundlanders have Canadian friendliness turned up to 11. They were drawn to The Rock by the TV show Republic of Doyle. Everyone we met, from gas station clerks to hotel concierges, was grateful to see tourists again.
Newfoundland seems like Mars when you first arrive. That's a compliment. It's Canada, but it's different. Along the highway, you don't see flattened animals like at home. There are no raccoons or skunks. If something gets hit, it's a deer or moose so it's much more serious. There's hardly any litter but more graffiti than you might expect. Yes, Sergio and Tiffany are forever, we get it and we also got it three rocks ago.
Just outside Port aux Basques, we found a lovely spot under a tree, near water, for the rest of Mom's ashes. A nearby beach is home to rare Piping Plovers nesting in the sand. Mom would have loved that. I was dry-eyed as I said a few words about how much I miss her. As we pulled away, a solemn Derek said, "Watch over the place, Helen". Suddenly I was overcome with a powerful, physical pressure on my chest. It felt like I was leaving her behind, abandoning her, and tears rushed out of my eyes like a sudden waterfall. Grief is a sneaky emotion. It lies in wait and hits you hard.
I booked a "pet-friendly" cabin for the return voyage. It's something new they offer and we were the first to use ours. No, I didn't have to leash Derek. But it sure was nice to stretch out on a bed, watch a movie, and have our own bathroom.
As we boarded the ferry back to the mainland, the sun beamed down from a clear blue sky. Of course it did. Locals told us the week before our visit was warm and sunny. So was the week after. I guess we just weren't meant to see puffins and icebergs. We'll need to go back another time. This trip was about Mom, after all.