The last time I attended a production at Port Stanley Festival Theatre, I was living in Toronto.
It was a lifetime ago. I came because Marie Bottrell was starring in a show and my then-husband was old friends with her. I only remember that Marie was great and we met up with her afterward before the drive back to TO.
Finally, as Port Stanley residents, we saw a play at this wonderful venue. It came on the invitation of my former work husband, Ken Eastwood and his wonderful wife Nora.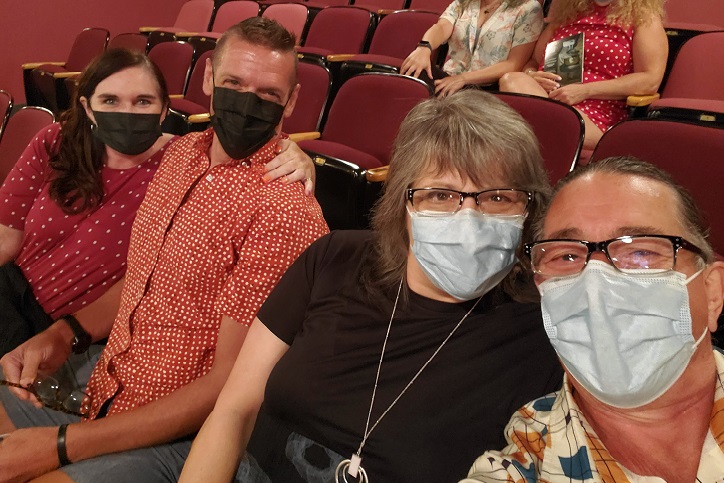 Derek and I walk past the theatre nearly every morning during our 45 minute loop of the hill/village/harbour/Little Beach. I've taken notice when the posters out front change. Heck, I wrote about this season and the world premieres in an earlier ImPort Stanley post. It must have been a forest-for-the-trees scenario that led us to overlook it. Until Nora and Ken suggested it, we hadn't talked about going.
But we finally did and it was fun! I don't miss much about being on the radio, but I do miss some people and Ken is definitely one of them. He and Loreena Dickson are partners now on CJBK and with Ryan Spence as technical producer, you couldn't find a better bunch.
Ken and Nora go together like salt and pepper, peanut butter and chocolate, being Canadian and whining about winter – you can't imagine one without the other. Their daughter is an actor and they're live theatre veterans. So were we, once upon a time. It was great to get back into the groove.
We attended the new play, Our House. It's the story of two couples, one older, one younger, and the bumps in the road of their relationships. It's amusing.
In my opinion, the women of Our House were great but the men stole the show. Our House is on until the end of the month.
The theatre itself is beautiful and seats just over 200. There's a rooftop patio with an amazing view of the harbour and other parts of the building you can rent. It's a terrific jewel in our village, and has been operating since 1939.
Two more productions round out the 2022 summer season after Our House closes. They're both comedies: The View From Here (starring real-life husband and wife actors) and Meet My Sister. Then it's The Playwrights' Festival. They present new plays as public readings for audience feedback. Throughout the season, the theatre displays the works of local artists that are for sale. Parking is free after 5 pm and enforcement is called off for area streets on theatre nights.
We may have been a bit slow to get reacquainted, PSFT, but we'll be back soon!