Innies and outies usually mean belly buttons. Nope, curtains. Specifically outdoor curtains. It's a decor debate that I unknowingly waded into. I've just discovered that this discussion has been going on in back yards for many summers. And there's still no consensus.
We vowed to make the most of this postage stamp back yard in Port Stanley. We schemed all winter. Derek put up a rock solid, wooden gazebo with a 12 x 14 foot roof. Oh, how well he knows me. My face reacts poorly to sunshine, and now it's affecting my arms, too. This structure does the trick.
Buying curtains for the gazebo ought to be straightforward. They're needed for privacy even though the yard is fenced. Several varieties of outdoor curtains are made to withstand the rain, resist moisture and mildew. We decided to go with light, neutral grey and add colourful accents. Step One: Determine the length. Two: Choose grommet or tab, light-filtering or blackout. You get 'em and put 'em up. Easy, right? Not so fast.
How should they hang? And by that I mean, where will the good side face? Inside or out? It seems like a no brainer at first. After all, you hang them good side in, inside your house. But it's different outdoors on a single structure with a 360° view.
So many decorating ideas have guidelines. Not this one. Here are back to back comments that arrived after I asked for opinions on Instagram.

There are pros and cons to each way.
GOOD SIDE FACING IN: The hem – which goes along the bottom and up the sides over white backing – will show to the outside. Those inside the gazebo get to see the unbroken colour.
GOOD SIDE FACING OUT: The gazebo looks better from the outside. Inside, the view of closed curtains offers hems and backing.
Even designers don't agree on this one. We discussed hanging the curtains both ways, depending on which side of the gazebo they're on. For example, good side facing in along the back so we don't have to look at the hemmed side from the house.
There didn't seem to be an easy answer. But then it hit me. I didn't HAVE to have a curtain with white backing!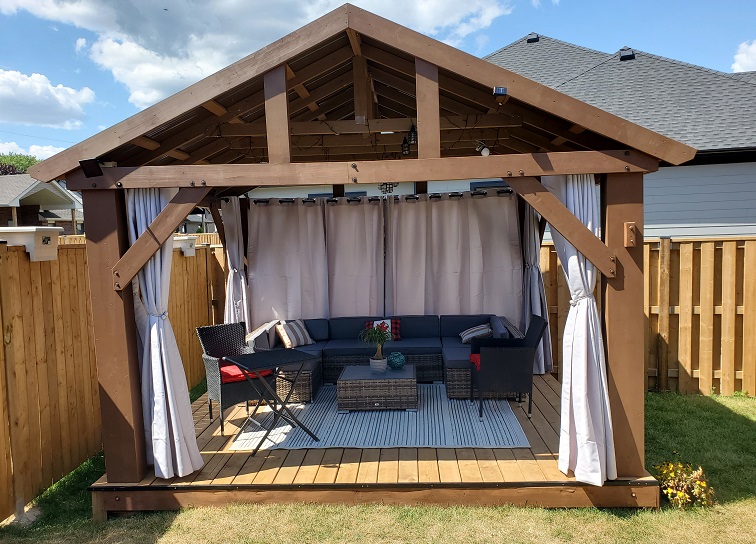 Problem solved! I purchased unlined, light, outdoor, moisture wicking curtains that are the same on both sides. And they were less expensive than my earlier choice. The roof is already providing sun shade. I didn't need the curtains to do it. You can't tell unless you look closely whether you're seeing the so-called good or bad side.
So, I'm not an innie or an outie. I'm reversible! This might not solve the debate for everyone. But it works for us.
I've never had an outdoor space like this before, with twinkle lights (solar) and eventually a fire pit. In my previous life as a radio morning host, I was often asleep before dark. And let's fact it, in the last few years we haven't lived anywhere long enough to create an outdoor oasis. We have definitely dug in here. Maybe not forever, but for a good, long time.