An occasional visitor to Port Stanley recently posted on the village Facebook page one simple question: "Can anyone tell me why Port Stanley doesn't have a Tim Hortons?"
Of 240+ comments, most want to keep Port Stanley merchants locally owned with no national chains. We have a couple of wonderful stops for coffee run by terrific local people: Art & Soul Cafe and Harbour Merchant. But, said some, what about a drive thru? Apparently, parking and walking a few metres is a hardship.
WHAT'S RED DEER GOT TO DO WITH IT?
In 2006 I returned to Red Deer, AB for the first time since I'd lived there in the 1980s. As my pal Karen and I entered city limits, I had a mild existential crisis. In the years since I'd left, Red Deer had become like every other Canadian city. The same facades for Shoppers Drug Mart and other retailers dotted each side of the highway. I could have been driving into Kitchener or Saskatoon. Frankly, it was gross.
Granted, Red Deer has about 25 times the population of Port Stanley. But if this village opens the door to Timbits on the go, where will it end? You can't put that Genie back in the bottle.
Port Stanley is already changing. Our move here is part of that change: population growth. But I'm dead set against turning this town into a clone of every other one. If you need a drive-thru head to St. Thomas. We need to preserve some of the quaintness of our village. The whole point of coming here is to slow the pace of life and enjoy the moments along Lake Erie. Buying an excellent cup of coffee to savour is all part of the experience. Walking in, you see people you know and nod hello. It's a community.
Port Stanley does have a few conglomerate outlets. There's Foodland, Home Hardware, and Shell – our only gas station. Some Facebook posters said the empty restaurant building next to the gas station would be perfect for a drive-thru. If it had to go somewhere, that would probably be best. But then what's next? Giant Tiger? Dollarama? Walmart??? No, thank you!
THINKING LOCALLY
Since we moved here, I've done my best to shop locally first. It recently paid off in a surprising way. Cuddles the cat was fitted with a cone at the vet's office. It was awful. He was depressed and wouldn't eat. After one sleepless night, I did some research and decided to get an inflatable one. It's like a tiny neck pillow you might use while traveling. My first stop was Ports Pets. Even though it's a terrific store with lots of stock, I didn't expect to find this specialty thing.
It was my lucky day. Someone had ordered one for a chihuahua and then decided they didn't want it anymore. It was perfect! And it made our lad much more comfortable until his little wound healed.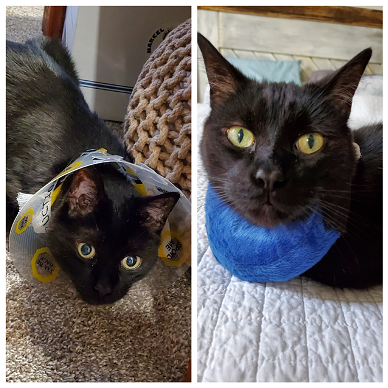 I could have ordered one from Amazon. But why would I? When shopping locally takes me down to the water, where I spend a little time supporting the business run by one of my neighbours. I can't get everything we need here, but I'll try anyway before I go elsewhere.
Don't bring a drive-thru or a Tim Hortons to Port Stanley. Those who claim they can't live without it will just have to suffer for a while. Or change their travel plans and vacation in Saskatoon instead.