Hummingbirds were slow to discover our feeder but once they did, they must have gone onto Hummingbird Trip Advisor and given us 5 stars.
Derek put up a second feeder to accommodate the overflow. Soon, we were taking reservations like Nobu of the north.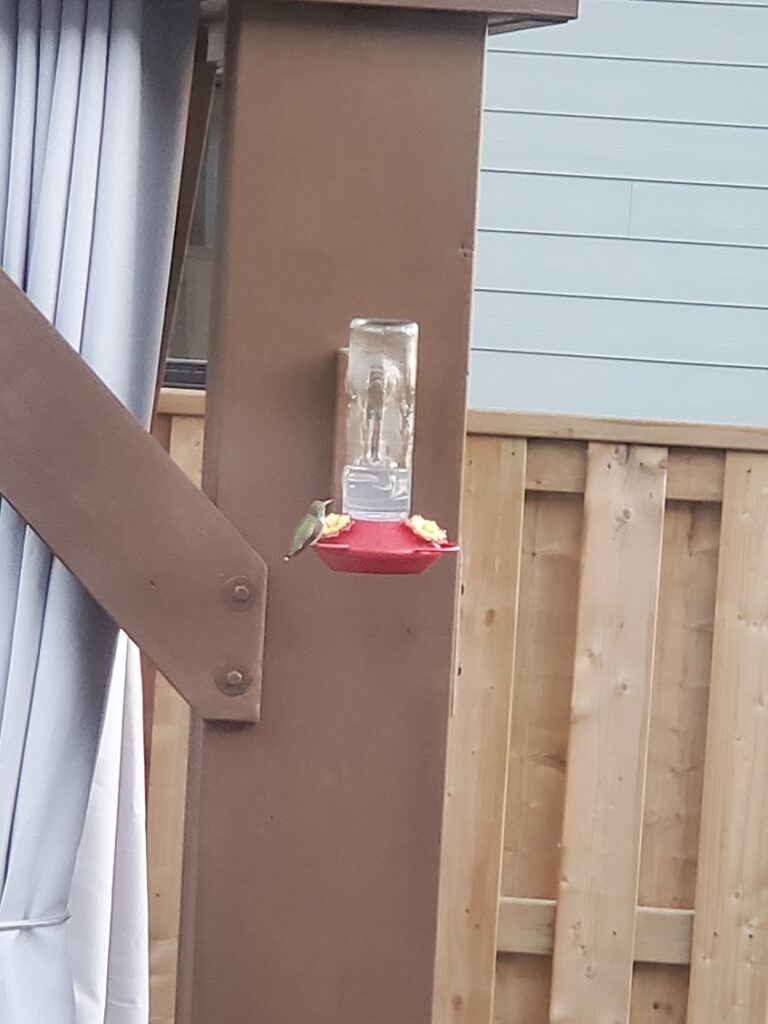 We had a few good weeks of feeding frenzies. Now, it's just an occasional sighting. Soon, the feeders will come down and get a thorough scrubbing before they're packed away. Giant Vs of geese squawk overhead as they head for warmer destinations. The birds are deserting us before snow arrives.
There's more to do in the fall when you spend more of your time outside in summer, as we do here in Port. Gazebo curtains, all washable, will dance in the laundry pair before they're folded away. Cushions brushed off and put in the shed with dryer sheets to deter mice. Furniture covered with dryer sheets and sheltered under the tarp that goes with it. Begonias removed from the planters out front and fall topiaries installed. Weighted down better against the wind, this year. I had to chase them a few times as they rolled away like tumbleweeds.
These little chores are nothing compared to what the merchants must do. GT's on the Beach has already packed away a hundred or so patio umbrellas until May. Hours will shrink at other restaurants and retailers as colder weather moves in. Some will shutter until spring. They'll open for Dickens' Days, the weekend of November 26, and close again.
Pop-up events like yoga on the beach are over for another season. And the town's amazing volunteer gardeners have been cleaning up the flower beds and preparing them for a winter's nap. Baskets of flowers will come down from the light standards and holiday décor will go up.
Living in a tourist-friendly town, you notice the anticipation. The preparations for holidays and events involve everyone. It's a community, all for one and one for all. It's one of the reasons we love it here so much.
Pro tip: If you're not a beach person and you want to experience the delights of our village when it's not so peopley, fall is the perfect time to visit.