In addition to a goodie bag, some terrific contacts and great advice, I came home from the VO North conference in Toronto with Covid-19. My blog post about the conference published last week before I knew I was sick.
TUESDAY: Got up in the middle of the night to take a Tylenol for a raw throat and throbbing forehead. Decided to test myself for Covid-19. One conference buddy has it, one doesn't.
Out of rapid tests. Derek went to Walmart at 7 am. Yup, I've got it. Derek does not. I was supposed to have dental surgery today. Damn! Instead, we both cancel everything for the week. Voice projects. Massage. Breakfast with friends. And my cousin's weekend visit which we were looking forward to.
The guest bedroom upstairs was ready for Barbara-Anne so moving in took no time. Derek came back from the drug store with bottles of hand sanitizer. Also, a bunch of flowers from Fleurs Fraiche that made me smile. The doorbell rang and it was a delivery. Yelled through the door for them to just leave it, thank you. A basket of wonderful smelling lotions and pampering stuff from our friends Kendra and Tim. So thoughtful! Wait? I can smell? I thought the sense of smell and taste got lost with Covid? Google it. Apparently it happens to 8 out of 10 patients. I'm one of the remaining 2. Maybe my case of the virus won't be as severe, especially after 4 vaccinations.
Spent the evening watching TV on opposite sides of the room. Popcorn for supper. Loss of appetite almost never happens to me. The cat is sticking close like a fuzzy, little nurse. Barely make it to 8:30 before dragging my butt down the hall to bed.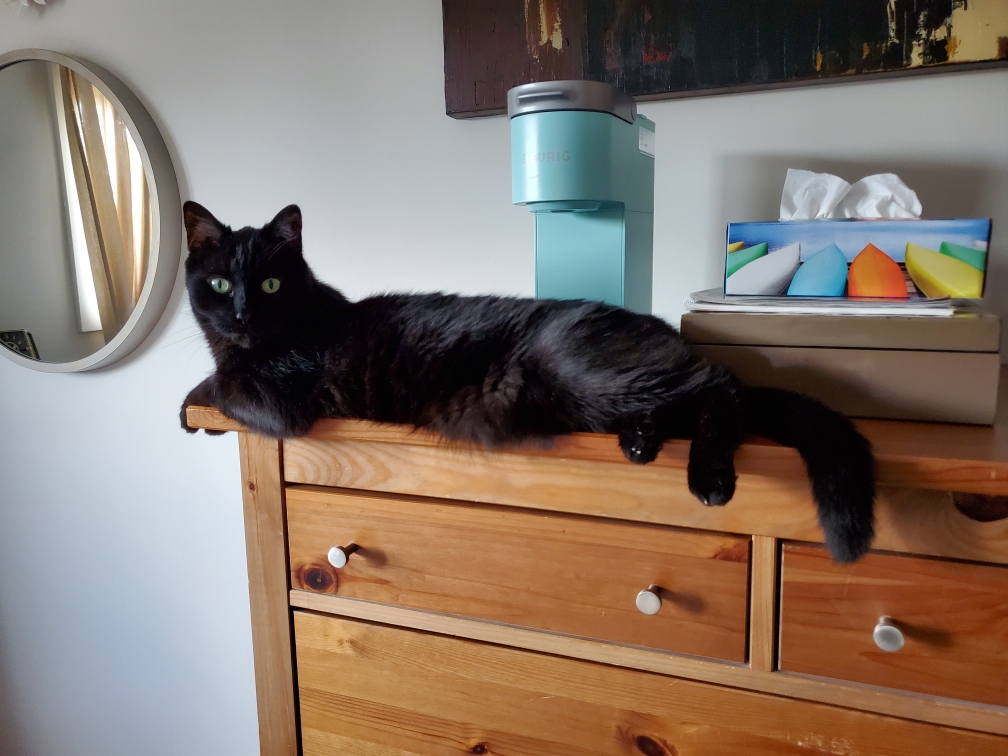 WEDNESDAY: Cuddles has either been watching me from his overhead perch on the tall dresser or sleeping next to me. Must remember to teach him to make tea. Coughing began around 2 am. Still feels like a bad cold. Achy, slight fever, nothing dramatic. I sound sicker than I feel. Got an audition request for a fun e-learning project but they can't wait for me to get better. Made toast for Derek, delivering the plate to him with tongs.
He tested negative again. We are keeping away from each other and washing our hands often. Sent an email to regular clients asking them to work around me for a couple days. Everyone's been understanding.
Fascinated by a guy on Twitter who said I was proof that Covid-19 wasn't over. I asked, who said it was over? He said, Biden, and sent a clip of Biden saying "the pandemic is over". Tried to explain to the guy that pandemic is different than Covid-19. He couldn't grasp it. Gave up on humanity for a few minutes.
Developed a wicked craving for Kambi noodle soup. Unfortunately, that restaurant closed when the owners retired. Did my best to make a similar soup, with shitake noodles, frozen vegetables, and bacon-wrapped scallops. Sanitized my hands throughout the process. It was pretty good but no Kambi. Have developed a fever and a deep cough. Sneezing less. Still achy. This feels like the peak.
THURSDAY: Roasted all night but by about 8 am my temp was back to normal. It feels like this experience is on fast-forward. Still have a deep cough but don't feel as beat up. Did a little voice-work this morning. The more I do, the better I sound. Tiring out easily. Ordered a mattress topper for the guest bed.
Fiddled with a video project. Did another round of book edits on my forthcoming updated version of Make the Media Want You. Things I can do while sitting on my butt. Took a bath. Tried to nap around 1 pm. Room is too bright. Measured the guest bedroom windows for blinds.
Sat in front of the television watching show after show all evening. Ray Donovan. Republic of Doyle. Comedians in Cars Getting Coffee. Mix them all in a blender and serve them with a spoon!
FRIDAY: Woke up to Derek asleep on the living room couch with the fireplace on. Oh no! Is he sick? Turns out he'd opened the patio door so Cuddles could sniff the morning news and it got too cold. Whew. He tested negative. Several people tell me he will probably get it. I hope not.
A deep cough, fatigue, and some body aches. I'm susceptible to pneumonia, having had it several times, so I must keep tabs on the cough. Did laundry. Had a bit of work here and there. Derek did a major grocery shop which isn't his usual thing. He's been taking care of whatever needs doing without complaint.
Made butternut squash soup, one of my faves. By the time I was done, I didn't feel like eating it. Derek enjoyed it. I had some yogurt for supper followed by a small bowl of Enlightened chocolate ice cream. Violent sneezing fits came out of nowhere. Had to go into the guest room until they passed. Watched TV and then read Stephen King's new novel, Fairy Tale, until about 11 pm. I keep expecting King to jump the shark with his stories but he never does. He's the master.
SATURDAY: Woke up feeling clear with just a hint of a headache. The cough and sneezes came back once I started moving around. Noticed my chest muscles aching. Took a Tylenol and went back to bed after breakfast.
It's going to be another lazy day. Feeling a bit like a prisoner in my home, though. And I miss getting hugs from my husband who is still – thankfully – testing negative.
Ordered blinds for the guest room windows. When did blinds become so expensive? Bouclair used to custom-cut their premium blinds but they don't appear to do that anymore. Still, I have nothing but time so I hunt until I find what I want.
Derek BBQd steak but between my lack of appetite and my sore mouth I didn't feel much like eating. Remember the canceled dental appointment? A tooth beneath a bridge has to come out. It's been delayed twice now and it's quite painful. They have to cut the bridge, pull the tooth, leave the bridge cantilevered so I can at least chew, and then install an implant. However, the bone has vanished so I might need a bone graft. Right now, I just want the tooth out. Everything else is for future Lisa to worry about.
Tried to stream an old movie, Office Space, last night but it kept buffering. We're supposed to have the best Internet and blah blah blah. Bullshit! Watched a Comedians in Cars Getting Coffee special with Jerry Seinfeld and Eddie Murphy instead.
SUNDAY: Derek had been up but he's gone back to bed. Decide to fry a pan of bacon for him. I usually bake it in the oven.
If I think of last Sunday as the day of infection, I ought to test negative by Wednesday or Thursday, right? Nope. My nurse pal thinks Friday. I have some Zoom calls scheduled and I can move my hair appointment so this week shouldn't be too bad.
Sick of being sick. Test myself. Positive. Sudden fatigue hits every few hours. Still have smell and taste although pal Susan's sister didn't lose hers until Covid was all but gone. Such a weird virus.
MONDAY: Last night, the cat jumped on the bed from the dresser at the exact moment Stephen King's story was getting tense! Scared the heck out of me. Feeling drained despite sleeping through the night. Expect this will go on, more or less, for the rest of the week.
Counting blessings. No ventilator. No hospitalization. Have my husband here to help and he's still testing negative. There are so many ways this infection could go off the rails and I've experienced none of them. But it can feel free to piss off at any time now. I've officially had enough! I believe I speak for most of the world, too.
My conference Covid buddy tested negative this morning but I'm still in positive territory. Well, it's not like I'll rush out and start mingling with people the second I have a negative test. I have already begged off a girls' get-together Thursday that I was looking forward to. It just feels like I'll need a buffer to keep people safe.
Texted by the dentist's office. They can move my appointment up to Tuesday – tomorrow. Hurrah! They had an opening and despite me having Covid, they agree it's now become urgent. Never thought I'd cheer for a dental appointment but anything's better than the way it feels now.
Predicting I'll test negative by Wednesday. Maybe feel up to some masked errands on Friday or Saturday. Hoping the guest room improvements arrive soon. Too late for me, though. I'll be heading back down to the master bedroom. The cat will come with me. I'm sure Derek will be glad to have things back to normal. I know I will.