We are leaving for Italy next week. This is a bucket list, once-in-a-lifetime trip that's been in loose planning stages for years.
Just before my Mom died, 3 years ago this week, she said regretted not visiting Italy. Staff at the hospice where she spent her last days were preparing to decorate her room like an Italian villa, but she died before they could do it. Talking about it, and anticipating it, lit her up.
Years ago, Derek and I traveled by Bergman scooter from a small medieval village in France to Monaco. We were SO CLOSE to Italy but the setting sun and wacky French traffic convinced us to head for home. Like my Mom, I've always wanted to visit Italy. I didn't even have a city in mind. Just Italy and a pasta dinner made by someone Italian. So, off we go.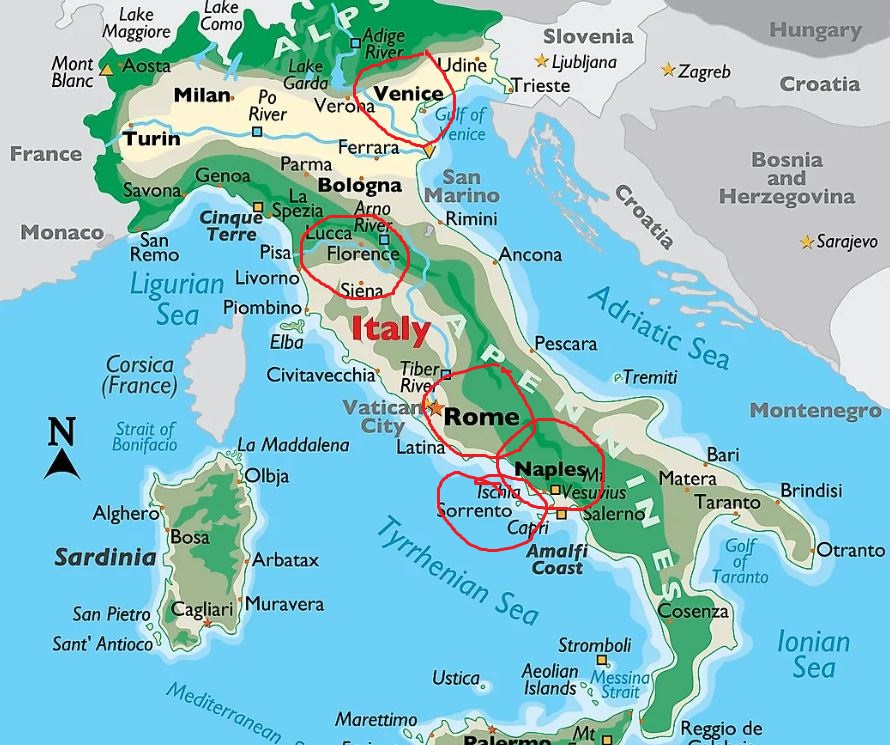 We have three weeks to explore an entire country and it wasn't easy to choose where to go. We almost skipped Rome altogether because the touristy sites aren't our primary goals. However, I do want to see the Colosseum and a few other legendary places, so we've booked a guide to take us there.
The other cities are either interesting to us, or close to something else we want to see. Salerno is on the coast which means island excursions. Venice – well, what do I have to explain about that? And Naples is the gateway to the south, including Pompeii.
Honestly, as I write this, I can't imagine a 3-week trip. I've never taken one before. The second-last time we were in Europe, we went for two weeks. And it flew by. Traveling is like that. I've gotten tips from friends who've been to Italy and we're taking advantage of their knowledge. We'll be joined for week 3 by Derek's wonderful England-based cousin Vicki, who is well traveled and excited about seeing southern Italy with us.
As for Cuddles, I'll admit I've had some sad moments thinking about how worried he will be that we're gone. However, we have trustworthy, gentle souls living here for the duration. He is their priority. We're doing the best we can for our little king.
Gracefully and Frankly, the podcast, will continue with freshly packaged best-of moments, with enough new content to make them worth your while – we hope! Erin has been busy putting those shows together, which she loves to do, and does such a great job on. Voice-over clients have been notified of my absence. I think our ducks are in a row.
At home, I eat a gluten-free, sugar-free diet. In Italy, anything goes. I'm not going to limit myself or pass up fresh pasta. My bag is packed with digestive supplements and acid reducers! I want to try it all, and while I don't plant to be a glutton, I am taking stretchy pants.
I will try to post photos here, if I can. Otherwise, our return date is October 19. Ciao for now!